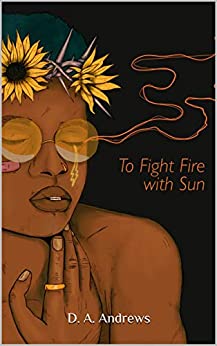 TO FIGHT FIRE WITH SUN BY D.A. ANDREWS
'Love me without restriction, love me without gilt, love me for me…love me out loud'
Jamaican-born Georgia author D.A. Andrews earned her degree in Marine Biology and Psychology from the University of the West Indies and is continuing her education, taking time to write this sensitive book of poetry that shares her encounters of loss 'of friends, lovers, or myself.'
In a brief Preface Andrews states, 'If life has taught me anything, it is that to live the human experience is to know pain. I do not wish to sugar coat anything or romanticize any form of depression or mental illness. I, simply, hope to share with you what got me through certain moments.' And as with all collections of poetry, the poems speak for themselves. An example follows:
The Hunt
He is clothed in strength,
though thoughts race
day by day.
Armoured in green
with never much to say.
Unwavering confidence
and the brightest smile
he suffers in silence
mile by mile.
I have looked up to him
from the moment we met,
entranced by a gaze
we shared across that
living room carpet.
But with every problem
he faces there,
I pray and hope
he knows I am here.
There is a lyricism to these poems that echoes through the pages, words of how to face experiences, adjust, and heal. DA Andrews is a spirit to follow.