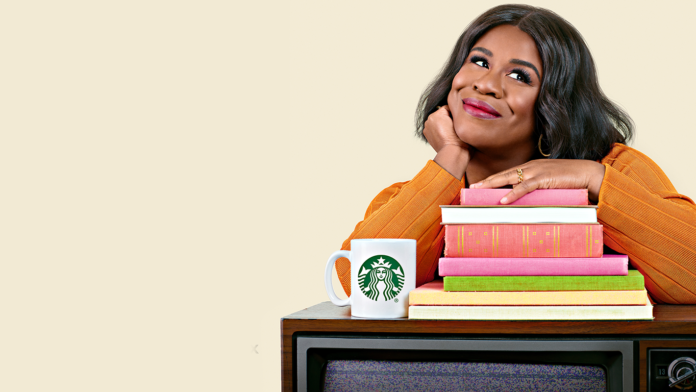 Netflix Book Club host Uzo Aduba has always been a reader. The reason is the same as most readers out there: "I love to read to learn, but I also really enjoy the escape as well," Uzo says.
To kick off today's release of the first episode of "But Have You Read the Book?" — a new social series from Netflix Book Club and Starbucks where Uzo and special guests discuss monthly book picks over a cup of coffee — the Emmy-winning actress answered a few questions about the books that changed her life.
After you read the Q&A, you can watch the first episode of "But Have You Read the Book?" with Uzo and Passing director Rebecca Hall and stars Tessa Thompson, Ruth Negga and André Holland below, and subscribe to the Netflix Still Watching Youtube channel for monthly episodes.
Enjoy! ♥📚☕
Let's start with the obvious question! What books changed your life? Mmmmm… I have two: The Catcher in the Rye by J.D. Salinger and The Autobiography of Malcolm X by Malcolm X (as told to Alex Haley).
Where were you in your life when you read these books?  With The Catcher in the Rye, I was in high school. I remember feeling a connection to the youthful angst Holden was experiencing, and a desire for something more than the world surrounding me at the time. I still have the copy that my teacher, Mrs. Dugan, gave me after we had finished reading it. She knew I had loved it.
When I read The Autobiography of Malcolm X… I was in a space of self-defining and evolution. It was a time in my life where I was discovering my own voice and how I wanted to use it.
What was the change that reading these book sparked in your life?  Both books ignited a desire to seek truth and understanding, to blaze a trail of my own.
Did these books change how you perceived yourself or the world? Or both? Definitely. I think both books made space for me to understand there is more than a single way of moving through my life in this world.
Who do you recommend these books to? I would recommend The Catcher in the Rye to anyone trying to make sense of their life's crossroads. I would recommend The Autobiography of Malcolm X to anyone familiar with the myth but not the man.