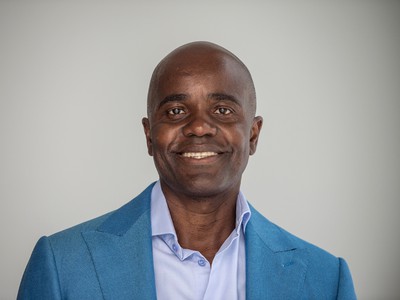 Upcoming Memoir, No Bootstraps When You're Barefoot, From Canadian Business Leader and "Dragon" Investor, Wes Hall
Random House Canada today announced the forthcoming publication of No Bootstraps When You're Barefoot, a book by Wes Hall, newly minted Dragons' Den "Dragon", and one of Canada's most successful business leaders. The book is represented by The Rights Factory's Sam Hiyate and was acquired for Random House Canada by executive editor and VP Anne Collins for publication in Fall 2022.
A story of drive, agency and hope, No Bootstraps When You're Barefoot, documents Hall's inspirational trajectory from humble and challenging beginnings to finding his faith, his focus, and his seat at the Bay Street table.
"It is a pleasure to publish this powerful book of determination and grit, which is both inspiring and motivating," says Sue Kuruvilla, Random House Canada's publisher. "Wes Hall is such an astounding force for change in Canada. We hope that readers will be inspired by his conviction and tenacity, which helped him not only to lift himself and his family out of poverty, but also to propel his community forward.
Hall's story will uplift and inspire those used to being the "only" in the room. His status as one of Canada's preeminent businessmen and a pillar of the Black community is well known but now Hall is ready to share the journey that brought him here. At each stage of his life, Hall used his intelligence and tenacity to defy stereotypes and find opportunity not oppression in his unique lived experience.
"Growing up in poverty in rural Jamaica, I didn't think my life would turn out this way," says Hall. "Back then I didn't believe that I would one day have the ability to change lives and be the champion of the underserved. I have learned throughout my own journey that giving a person hope can transform their life and change the world. This book is about inspiring people to dream without limits."
Raised by his grandmother in a zinc-roofed hut on a Jamaican plantation, Hall faced  seemingly unsurmountable familial and financial obstacles. He could easily have given up, but he resolved to follow another course – one that has led him to becoming one of Canada's most respected business people and entrepreneurs and to founding Blacknorth Initiative, an organization committed to removing the systemic barriers negatively affecting Black people in the workplace. With tales spanning from his childhood in Jamaica to bringing new representation into the Dragons' Den, and the obstacles and triumphs along the way, this book will highlight the power of choice and the confidence that made Hall invest in himself and transform his circumstances.
WESLEY J. HALL is a Canadian businessman and entrepreneur, founder of Kingsdale Advisors and the BlackNorth Initiative. He is best known as Canada's first Black "Dragon" investor in the Canadian edition of the reality television series Dragons' Den. Born and raised in Saint Thomas, Jamaica, Hall moved to Toronto, Ontario, as a teenager and has since made a significant impact on the Canadian business economy.