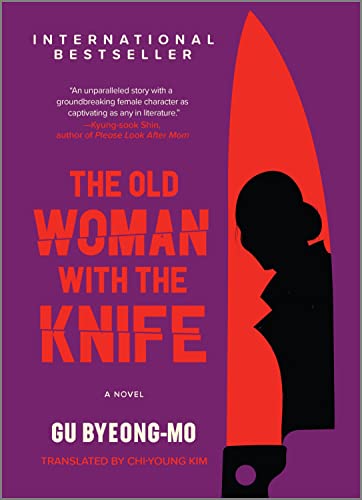 THE OLD WOMAN WITH THE KNIFE BY GU BYEONG-MO
The kinetic story of a 65-year-old female assassin who faces an unexpected threat in the twilight of her career–an international bestseller and English language debut from an award-winning South Korean author
At 65, Hornclaw is beginning to slow down. She has reduced her hours at work and while she stays physically fit, she no longer goes to the gym. She lives modestly in a small apartment in the city, with her only her aging dog, a rescue named Deadweight, to keep her company. There are expectations for a woman her age—that she'll retire and live out the rest of her days quietly. But Hornclaw is not like other people. She is an assassin.
For the past four decades, Hornclaw has worked at as a "disease control specialist," a euphemism for those who are secretly hired to kill. Double-crossers, corporate enemies, cheating spouses—Hornclaw kills them all with ruthless efficiency, and the less she knows about her targets the better. But now, nearing the end of her career, at a moment where she could be cashing out on her share of the company, she has just slipped up. An unexpected injury leads her to a late night medical visit, and an unexpected connection with a doctor and his family. But emotions, for a disease specialist, are a dangerous proposition. As a new threat emerges against Hornclaw, and her world closes in, this final chapter in her career may also mark a bloody end to her life.
A sensation in South Korea, and now translated into English for the first time by Chi-Young Kim, The Old Woman with the Knife is an electrifying, singular, mordantly funny novel about the expectations imposed on aging bodies and the dramatic ways in which one woman chooses to reclaim her agency.