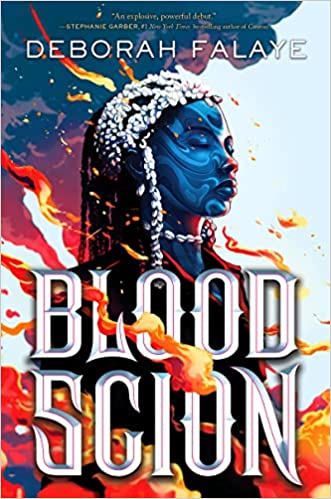 BLOOD SCION by Deborah Falaye
(Visit our blog tomorrow for a Behind The Words interview with Deborah)
This is what they deserve.
They wanted me to be a monster.
I will be the worst monster they ever created.
Fifteen-year-old Sloane can incinerate an enemy at will—she is a Scion, a descendant of the ancient Orisha gods.
Under the Lucis' brutal rule, her identity means her death if her powers are discovered. But when she is forcibly conscripted into the Lucis army on her fifteenth birthday, Sloane sees a new opportunity: to overcome the bloody challenges of Lucis training, and destroy them from within.
Following one girl's journey of magic, injustice, power, and revenge, Deborah Falaye's debut novel, inspired by Yoruba-Nigerian mythology, is a magnetic combination of Children of Blood and Bone and An Ember in the Ashes.
BUY LINKS:
B&N: https://www.barnesandnoble.com/w/blood-scion-deborah-falaye/1137108713?ean=9780062954046
AMAZON: https://www.amazon.com/Blood-Scion-Deborah-Falaye/dp/0062954040/ref=sr_1_1?crid=4YT2VDZD3LR6&keywords=blood+scion&qid=1643766921&s=books&sprefix=blood+scion,stripbooks,109&sr=1-1
INDIEBOUND: https://www.indiebound.org/book/9780062954046
BOOKSHOP: https://bookshop.org/books/blood-scion-9780062954046/9780062954046
ABOUT THE AUTHOR:
Deborah Falaye is a Nigerian-Canadian young adult author. She grew up in Lagos, Nigeria, where she spent her time devouring African literature, pestering her grandma for folktales, and tricking her grandfather into watching Passions every night. When she's not writing about fierce Black girls with badass magic, she can be found obsessing over all things reality TV. Deborah currently lives in Toronto with her husband and their partner-in-crime yorkie, Major. Blood Scion is her first novel.
AUTHOR WEBSITE: https://www.deborahfalaye.com/