Strong women, medical romance, and firefighters with author Carina Alyce
Carina Alyce is the pen name of the Amazon Best-selling author and full-time triple board-certified physician who started writing dramatic medical romances after twenty years in the trenches of health care. She promises she never had sex in a call room – the mattresses are not comfortable – or had a fistfight with a patient – though she did work as a fight doc at the Octagon. Her stories are sexy, snarky, and real with all the romance and drama of the lives of our first responders.
She writes the MetroGen Downtown series that tackles the personal and professional challenges facing our front line providers. Her stories have the drama of Grey's Anatomy, the comedy of Scrubs, the sexiness of Outlander, and the medical details of Forensic Files. They feature fast, witty dialogue, strong women with goals, and quirky ensemble casts.
When not working or writing, she is a brown belt in judo, an avid reader, and an attending surgeon in stuffed animal veterinary medicine for her six kids. (No one trusts her husband's medical skills because he's just a lawyer.)
Her latest release, Unchecked, is out now. You can get her book Wildcat, for free now and you can pre-order
Heroes with Heat and Heart Anthology here.
Keep in touch with Carina at her website, Facebook, Twitter, and BookBub.
Here's a look at one of Carina's latest release:
Matched: A Medical Romantic Suspense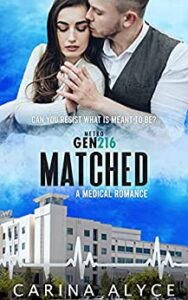 Good news: No more bad dates because he's the ONE. Bad news: He's either unemployed . . . or James Bond.
Third-year medical student Nora Bornstein is over her mom's endless matchmaking attempts. No single Jewish boy of any age in the closest six metropolitan areas has convinced Nora to change her life's ambition from 'doctor' to 'wife.'
Enter Barack Perez who claims to be a good Jewish boy from New York. He says he's an out-of-work cook, but he might be an international super spy for Mossad.
Nora's not sure, but she's finally met her match.
Warning: This romantic suspense is perfect for viewers who felt Fiddler on the Roof needed more unemployed assassins. Total avoid if you dislike Jerry Seinfeld, Larry David, Yentl, and an ending reveal to make you shriek..