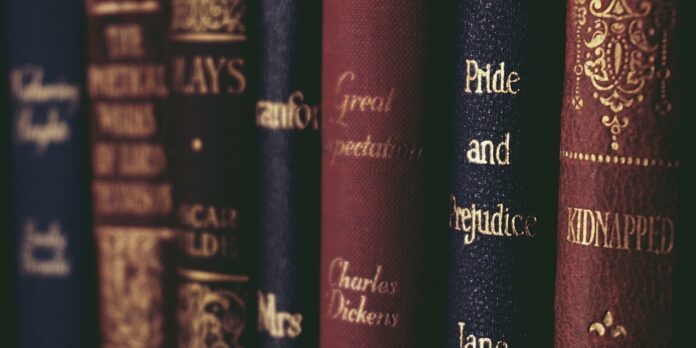 "Where do you get your ideas?"
It's the question that stumps most authors because it's not something we can readily explain. Ideas pop into our heads all the time—usually when we don't have pen and paper handy. They arrive when we're in the shower, at the movie theater, in the middle of the night, on a long drive, or while passing the mashed potatoes at a holiday meal.
But I can actually tell you how the main idea for The Vanishing Type came about. It happened when I was online, searching for a vintage Jane Austen book with a beautiful cover. Specifically, I wanted to see how much a copy of Pride and Prejudice with the famous peacock cover cost. The answer? In the thousands!
From there, I went down a book designer rabbit hole. I wanted to see more covers from the Victorian period and America's Golden Age of Book Design. I love the art nouveau designs—all that gilt and glam captured on cloth. The beauty in those bindings is magical.
While inside this online rabbit hole, I encountered a female book designer named Margaret Armstrong and was immediately enamored by her designs. Her art nouveau flowers reminded me of Tiffany's famed stained glass (probably because Margaret was once a Tiffany Studios artist).
So here I am, a mystery writer and book collector, pouring over images of Margaret's book covers. And that's when I noticed her initials peeking out from the corner of her floral design. Curiosity piqued, I ran a new search for hidden messages in books, and boom! During this time period, many designers hid secret symbols or initials on their covers. And just like that, my imagination was off to the races!
The title, The Vanishing Type, refers to the hidden letters on the covers of a fictional book series. They're so well camouflaged that they appear to vanish into the design.
The Secret, Book, and Scone Society members must find these letters, and they don't have much time to do it. It's literally a matter of life or death!
(Note: the above images show the covers of some of my favorite designers, including Margaret Armstrong, Coralie Bickford-Smith, and Hülya Özdemir. To see more photos of my personal book collection, visit my Instagram feed @elleryadamsofficial).
---
Entertainment Weekly hails the Secret, Book, and Scone Society series by New York Times bestselling author Ellery Adams as "a love letter to reading," and in this fifth installment, bookshop owner, bibliotherapist, and occasional sleuth Nora Pennington must enlist the help of her brilliant, brassy librarian friend Bobbie to unravel the connection between The Scarlet Letter, an obscure 19th century writer, and a dead hiker…
While January snow falls outside in Miracle Springs, North Carolina, Nora Pennington is encouraging customers to cozy up indoors with a good book. Even though the shop and her bibliotherapy sessions keep Nora busy during the day, her nights are a little too quiet—until Deputy Andrews pulls Nora into the sci-fi section and asks her to help him plan a wedding proposal.
His bride-to-be, Hester, loves Little Women, and Nora sets to work arranging a special screening at the town's new movie theater. But right before the deputy pops the question, Nora makes an unsettling discovery—someone has mutilated all her store's copies of The Scarlet Letter, slicing angrily into the pages wherever Hester Prynne's name is mentioned.
The coincidence disturbs Nora, who's one of the few in Miracle Springs who knows that Hester gave up a baby for adoption many years ago. Her family heaped shame on her, and Hester still feels so guilty that she hasn't even told her future husband. But when a dead man is found on a hiking trail just outside town, carrying a rare book, the members of the Secret, Book, and Scone Society unearth a connection to Hester's past. Someone is intent on bringing the past to light, and it's not just Hester's relationship at stake, but her life…
Reprinted with permission from Kensington Books.