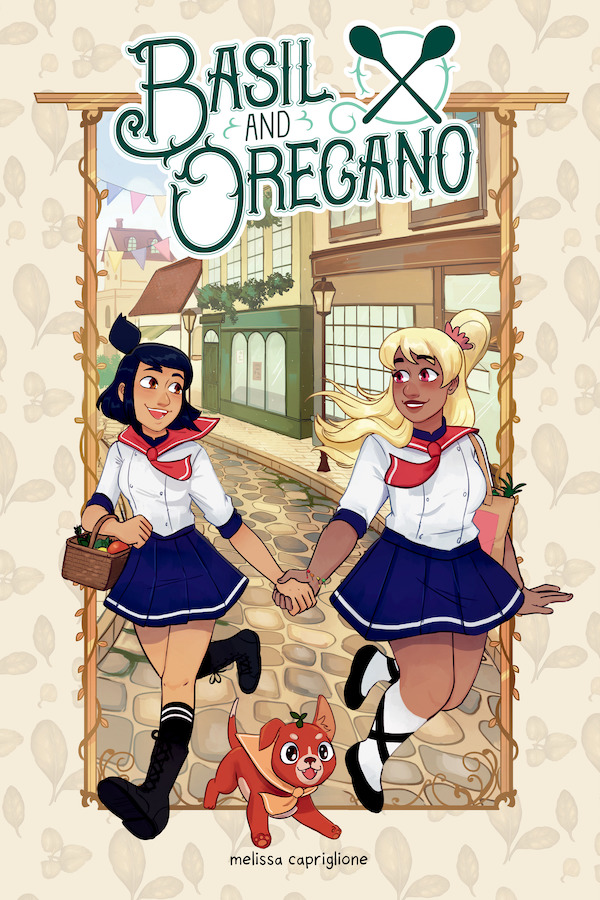 A YA LGBTQIA+ Tale for All Audiences
From Dark Horse Books and up-and-coming artist Melissa Capriglone (S.P.I.R.I.T, PiNKHEARTS, Falconhyrste) comes the new graphic novel, Basil and Oregano, a magical queer tale full of cooking and competition.
Porta Bella Magiculinary Academy is the finest school for the art of cooking with magic, and Basil Eyres is determined to be the top student. On the first day of Basil's senior year, Arabella Oregano, the daughter of a renowned chef, joins the academy for her senior year as well. The two are instantly smitten with each other, but Basil senses there's something Arabella is hiding from her. Still, the two work together to stand out from the class as the end-of-year culinary festival approaches. But when Arabella's secret is revealed, Basil is faced with the hardest decision of her life, which has the potential to throw her future aspirations in jeopardy.
Basil and Oregano will be available at comic stores September 7, 2022 and in bookstores September 20, 2022. It is available for pre-order on Amazon, Barnes & Noble, and at your local comic shop and bookstore. Basil and Oregano will retail for $19.99.
Praise for Falconhyrste:
"It's a delightful, queer-inclusive fantasy comic with interesting characters and plenty of mystery…"-The Beat
"It's fun and mysterious, beautiful and youth-accessible, magical and thoughtful in its representation. And it's completely addicting. Definitely check it out if you're the magical boarding school type, and honestly, even if you're not."-Comic Book Yeti