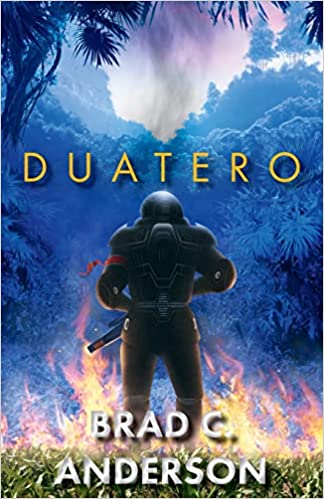 Duatero By Brad C. Anderson
'Learning how to act wisely in a turbulent world' – a brilliant new sci-fi novel!
Canadian author Brad C. Anderson has served in the biotech industry and now teaches business courses at the university level. He also researches the topic of organizational wisdom – wisdom as a psychological construct, and as a complement to traditionally studied domains of intelligence. His initial book publications – The Triumvirate Trilogy, and now DUATERO – are accompanied by publications of short stories. He lives in Vancouver
Described as 'a searing far-future science fiction novel abut the struggles of an abandoned human colony to survive on a hostile alien world' by scififantasy network, Brad's new novel wisely and subtly provides a keyhole view into many of the 'changes' in today's world: sci-fi fantasy with roots in reality. The story introduces many strange names, apropos for a sci-fi alien world tale, and the language, while raw at times, blends into near rhapsodic visual details that boost the appreciation of the author's gifts. These traits are suggested as the book opens: "Talia grew up in the Founder city of Xuanhe, and her birthright was the ability to cuss with the intense depravity of a drunken longshoreman. But she and I are falchilo. scythes of the Founders, and our words should be worthy of our ancestors, or so I believed. It took years, but I had rid her of the blue streak that could fire from her mouth like a sling bullet. "F**k." Kind of. Leaning in close to her as we walked, I said, "We have future falchilo to mould." Behind us, the squad of young men and women still wearing the white armband of initiates marched in formation. "Mind your language." The admixture of humor with the threatening themes enhances the story!
The provided outline hints at the scope of the novel: 'Majstro Falchilo Kredo has devoted his life to protecting the abandoned earth colony of Duatero from Malamiko, the indigenous ecosystem that makes their crops fail and whose contamination turns humans into mindless monsters. But Malimiko is changing, becoming more dangerous, more aware, even as the ancient technology they use to combat it fails piece by precious piece. Kredo and his fellow soldiers must risk everything or see all they hold precious wiped away and forgotten. Kredo is prepared to sacrifice himself—and anyone around him—to do his duty. But what if the price demanded is even higher?'
Fascinating, the way in which this fantasy nudges contemporary slants…and that is just one more reason this novel works so well for a vey broad audience.