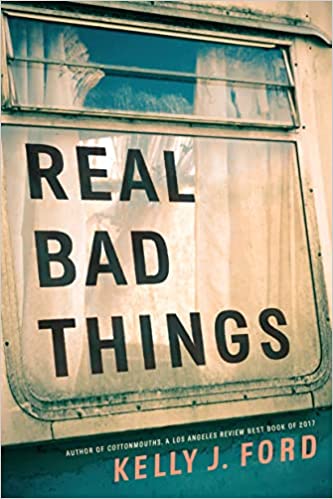 REAL BAD THINGS By Kelly J. Ford
"At the start of this gripping suspense novel from Ford (

Cottonmouths

), Jane Mooney, who's been living in Boston, returns home to Maud Bottoms, Ark.…The truth slowly unfolds as the plot builds toward a surprising conclusion foreshadowed by a trail of skillfully disguised clues. Ford delivers the goods." 

―

Publishers Weekly
"A confessed killer's return home brings long-buried secrets to life with a series of seismic jolts." ―Kirkus Reviews
Beneath the roiling waters of the Arkansas River lie dead men and buried secrets. 
When Jane Mooney's violent stepfather, Warren, disappeared, most folks in Maud Bottoms, Arkansas, assumed he got drunk and drowned. After all, the river had claimed its share over the years.
When Jane confessed to his murder, she should have gone to jail. That's what she wanted. But without a body, the police didn't charge her with the crime. So Jane left for Boston―and took her secrets with her.
Twenty-five years later, the river floods and a body surfaces. Talk of Warren's murder grips the town. Now in her forties, Jane returns to Maud Bottoms to reckon with her past: to do jail time, to face her revenge-bent mother, to make things right.
But though Jane's homecoming may enlighten some, it could threaten others. Because in this desolate river valley, some secrets are better left undisturbed.
BUY LINKS:
B&N: https://www.barnesandnoble.com/w/real-bad-things-kelly-j-ford/1140485132?ean=9781662500091
AMAZON: https://www.amazon.com/Real-Bad-Things-Kelly-Ford/dp/1662500092/ref=tmm_pap_swatch_0?_encoding=UTF8&qid=1643783995&sr=8-1
INDIEBOUND: https://www.indiebound.org/book/9781662500091
BOOKSHOP: https://bookshop.org/books/real-bad-things-a-thriller/9781662500091
ABOUT THE AUTHOR: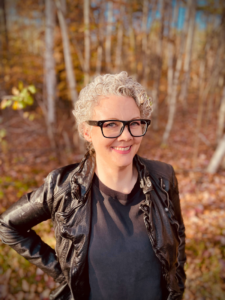 Kelly J. Ford is the author of Real Bad Things (summer 2022) and the award-winning Cottonmouths, a novel of "impressive depths of character and setting" according to the Los Angeles Review, which named it one of their Best Books of 2017.
An Arkansas native, Kelly writes about the power and pitfalls of friendship, the danger of long-held secrets, and the transcendent grittiness of the Ozarks and their surrounds.
She lives in Vermont with her wife and cat.
AUTHOR WEBSITE: https://kellyjford.com/