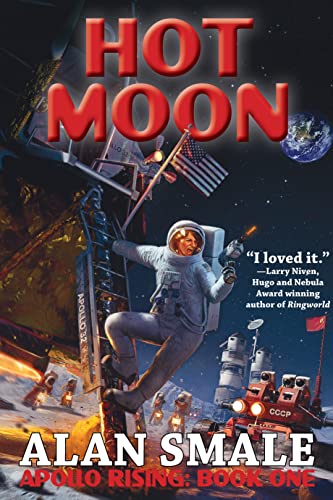 Hot Moon (Apollo Rising Book 1)
by Alan Smale
A superb mind-expanding sci-fi novel!
British born Maryland author Alan Smale earned his degrees in Physics and in Astrophysics from Oxford University and now serves as a researcher into black holes and neutron stars at NASA's Goddard Space Flight Center in Maryland. He has published extensive scientific articles as well as short stories in top ranking anthologies, his own novels – The Clash of Eagles Trilogy, and now begins a new series Apollo Rising of which HOT MOON is the initial volume. His writing reflects his interest in historical fiction, alternate or twisted history, and hard science fiction.
Establishing a solid rapport with his readers, Smale opens his book with intricately detailed drawings of spacecrafts (Apollo and Soyuz) and the Columbia space station, along with photographs of the moon's surface complete with maps of the locations in the story – solid optics to increase the credibility of the story that follows. The novel is placed in the timeframe December 1, 1979 – February 29, 1980, and the tension of this adventure is evident from the opening lines: 'In orbit around the Moon, ferocious bees assaulted a tin can. Spacesuited, untethered, and in free fall, Vivian Carter struggled to focus her thoughts and make sense of the scene before her. Woozy from pain and shock, she heard no voices in her headset, nothing but the seething white-noise hiss of jammed S-band communications. That can't be right. It was that empty hiss that freaked her out the most. She was alone in the void, between spacecraft, and as isolated as she had ever been. Comms were critical, and Vivian had none.' That entry into the conflict between the US and Soviets proves to be a most exhilarating sci-fi novel!
Taking place entirely on the moon, the storyline follows – 'In an alternate 1979 the US and the Soviets have permanent Moon bases, orbiting space stations, and crewed spy satellites supported by frequent rocket launches. Apollo 32, commanded by career astronaut Vivian Carter, docks at NASA's Columbia space station en route to its main mission: exploring the volcanic Marius Hills region of the Moon. Vivian is caught in the crossfire as four Soviet Soyuz craft appear without warning to assault the orbiting station. In an unplanned and desperate move, Vivian spacewalks through hard vacuum back to her Lunar Module and crew and escapes right before the station falls into Soviet hands. Their original mission scrubbed, Vivian and her crew are redirected to land at Hadley Base, a NASA scientific outpost with a crew of eighteen. But soon Hadley, too, will come under Soviet attack, forcing its unarmed astronauts to daring acts of ingenuity and improvisation.'
The author's fluid use of opposite perspectives – US and Soviet – adds to the strength of this 'fantasy' that seems entirely credible. Clearly, this is a major new novel cum series by an author with profound experience and insights into the spectrum of science and science fiction – a terrific marriage!