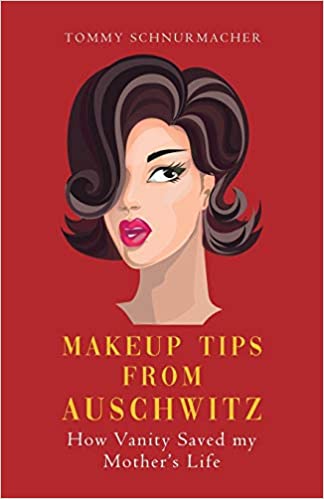 Makeup Tips from Auschwitz: How Vanity Saved my Mother's Life
by Tommy Schnurmacher
We are going on an adventure' – mother to son…and to a lucky audience of readers!
Canadian author Tommy Schnurmacher earned his degree from McGill University and is a celebrated broadcaster, hosting The Tommy Schnurmacher Show on CJAD radio, Montreal, winning a Gold Ribbon Award from the Canadian Association of Broadcasters in 1997. He is also an actor in films, journalist and a political commentator. His books to date – ARE WE ON YET?: Insider Secrets on How to be Interviewed, and now MAKEUP TIPS FROM AUSCHWITZ.
For an evening (or several…!) of pure delight, few books will satisfy on as many levels as this 'memoir' by the wise and witty and sensitive Tommy Schnurmacher. Yes, as the title indicates, this is the story of his mother and her vanity-based survival in the concentration camp of Auschwitz, but with Tommy innate skills and wit, he makes this history of a Holocaust survivor a rollicking adventure. The book is written in short Pieces (not chapters), and even the initial Piece prepares the reader for the book; 'Darn. It was too late to pick up a plastic-wrapped Mondo Kosher smoked salmon and cream cheese on a bagel at Second Cup. I was already huffing and puffing along a rain-swept Greene Avenue worried about arriving late for my two o'clock appointment with my psychologist, one Dr. Rebecca Melman-Hellman. The doctor is no relation to the Hellman's (est. 1913) mayonnaise empire and when I made the rookie mistake of asking if she was, I had to spend thirty minutes of the expensive session defending myself…I must confess I was addicted to this woman….'
Hungarian born, Tommy's tale is a once-in-a-lifetime tour of the interplay of one amazing mother and her extraordinary son, and life following the Holocaust as the family moved from Hungary to Canada. The book sparkles while embracing tenderness, and that is why it is so successful. There are moments of testimony – 'I was in awe of Holocaust survivors and amazed at how they had triumphed over unspeakable horrors. I admired their amazing resilience and remarkable courage. Like any child of Holocaust survivors, I had been told often enough that I had an obligation to never forget. Some survivors do not like to talk about the Holocaust to their children. Not my mom…not Auschwitz prisoner #A-25057…' From that springboard Tommy's story explodes like fireworks.