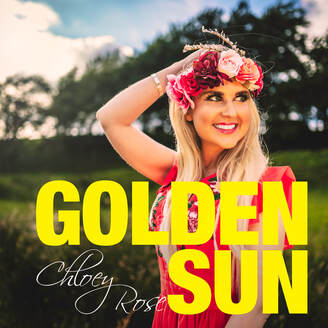 GOLDEN SUN RELEASING TODAY!
Chloey Rose is an act on the rise. Drawing inspiration from Kate Bush and Taylor Swift, Chloey is set to release brand new single 'Golden Sun' on 12th August.
'Golden Sun' is a spellbinding acoustic-pop summer ballad that is both soothing and uplifting in equal measure. Co-written by Chloey Rose and Harry David, the track has a classic epic quality that can only be arrived at by years of honing a craft, the refrain 'Step right out of my life into the golden sun" tugging on the heart strings with each aching repeat as the track grows.
Irresistible in its nostalgia and shining melodies, 'Golden Sun' is a track that will appeal to pop lovers as well as those looking for new soul stirring acoustic melancholy to add to their Spotify playlists. Like a big romantic reveal moment in a film, 'Golden Sun' fills the listener with images of escapism and love lost and found, with Rose's emotions worn firmly on her sleeve throughout. A slow-burning flood of gorgeousness, 'Golden Sun'
BBC Introducing Artist played on numerous radio stations including BBC Radio Lincolnshire, BBC Radio Humberside, Lincs FM, Gravity FM, Harborough FM and Compass FM and International Radio Airplay Netherlands and Spain.
Original songs Hopes and Dreams, Butterfly, Sky Is Falling, Hearts On The Line, True Love, Golden Dreams and Lungs all named Track of the Week on several radio stations.
Golden Dreams Awarded Best Original Song at Open Mic UK. 
Previous Winner of UK Unsigned
Her track Golden Dreams named an Outstanding Track with BBC Introducing Humberside
Awarded Most Talented Songwriter at Battle of the Bands Lincoln.
Previously selected to attend the UK International Song-