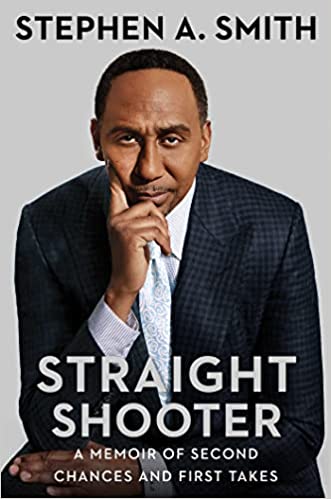 13A, an imprint of Gallery Books, a division of Simon & Schuster, will publish STRAIGHT SHOOTER, a memoir by pundit and ESPN personality Stephen A. Smith on January 17, 2023. 
Stephen A. Smith has never been handed anything, nor was he an overnight success. In STRAIGHT SHOOTER, Stephen A. reveals his untold story for the first time. Growing up poor in Queens, the son of Caribbean immigrants and the youngest of six children, he struggled with undiagnosed dyslexia and didn't always get enough to eat. Sports proved to be his salvation.
STRAIGHT SHOOTER covers the greatest highs and deepest lows of Stephen A.'s life and career: From his start as a reporter on the high school beat at The Daily News to a sports columnist at The Philadelphia Inquirer to his hiring, firing and rehiring at ESPN where, with his razor-sharp intelligence and fearless debate style, he found his calling on the show he was destined for: First Take, the network's signature morning debate show. He also shares his thoughts on fellow commentator Skip Bayless, controversial running back Ray Rice, the Dallas Cowboys and more. He pulls back the curtain on life beyond the set, with authentic stories about his negligent father, his loving mother, being a father himself, his life-threatening battle with COVID, and what he really thinks about politics and social issues. He does it all with the same intelligence, humor, and charm that have made him a household name.
"This book is a long time coming. Due to my fixation on privacy pertaining to my personal life, it took a lot of time, and a lot of prodding by loved ones, to finally get me to do this. But as I once told my Mom, 'if I'm going to write a book, I'll be damned if I'm holding back. I'm going to speak my truth, say what I have to say, just so everyone knows where I stand and why.' I know I've done that in this book. I had to do so eventually. It was time. No matter the consequences," said Stephen A. Smith.
"Stephen A. Smith is direct, honest and raw.  There are no hidden agendas in this memoir. The reader will walk away truly understanding who 'Stephen A.' really is. The book is motivational and inspirational. A great read from an American original," said Charles M. Suitt, Publisher of 13A.
In addition to his role on ESPN's #1 morning sports talk show, First Take, Stephen A. Smith is a premiere analyst on NBA Countdown throughout the NBA season; and the host and producer of the podcast "K[now] Mercy with Stephen A. Smith." Smith has more than 12 million followers across social media platforms, and his opinions on sports make daily headlines. Follow him on Twitter @StephenASmith.