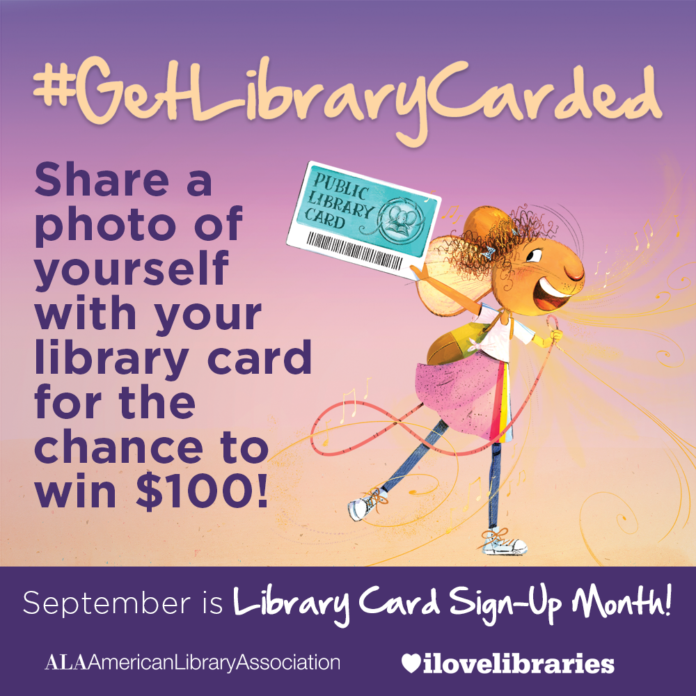 Ways to Celebrate September's National Sign-Up For a Library Card Month!
1. Visit your library.
Visit your library to see what's new and take part in the celebration. Libraries across the country are participating. Do you have friends who don't have a library card? Invite them to sign up during September.
2. #GetLibraryCarded
It's the most powerful tool in your wallet – show it off! Share a photo of yourself with your library card for the chance to win $100!
Post to Instagram or Twitter using the hashtag #GetLibraryCarded. Entries can also be submitted by posting as a comment or wall post on the I Love Libraries Facebook page. Be sure not to reveal any personal information on your library card and don't forget to tag your library! The creator of one randomly-selected post will receive a $100 Visa gift and a poster of choice from ALA Graphics. Three second-place winners will receive their poster of choice from ALA Graphics.
The #GetLibraryCarded promotion begins Thursday, September 1, at noon CT and ends Friday, September 23, at noon CT. All library lovers and librarians are encouraged to participate. The promotion is open to residents of the United States, Washington, D.C., and U.S. Territories. Employees of the American Library Association are not eligible to participate.