Welcome Kimberley!!
Your books are filled with just the right amount of adventure, intrigue, and romance. What was the inspiration for your new novel A Gem of Truth?
Back in 2008, I was at the Grand Canyon with my kids, who were young teens. There was an interpretive sign that explained about the Spanish explorers who saw the Canyon in the 1500s. But they left it because they were in search of what they thought was greater—the cities of gold.
All kinds of story ideas started in my mind that day. The legend that I created for A Gem of Truth goes back to those early explorers. While the history of them is very real, the legend is a figment of my own imagination
Your main protagonist, Julia Schultz, has a reputation for being a storyteller, or as some see it, a liar. What details in her past led her to spinning untruthful tales?
Julia was orphaned at an early age—and the circumstances are quite hideous and traumatizing to her young heart. So, to keep it all a secret, she comes up with fantastic tales about what actually happened to her parents. It becomes her way of gaining approval. Soon, she's making up stories about many aspects of her life.
In addition to the theme of truthfulness, what other lessons or themes are found in your novel?
Unconditional love. Forgiveness. Finding worth in who God created you to be.
Longing for a fresh start in life, Julia takes on a new position as a Harvey Girl. Can you explain the role of a Harvey Girl?
The Harvey Girls are waitresses who were incredibly fascinating. They served guests a full course meal in a mere forty-five minutes as the train stopped along its journey. The Harvey Houses were located along the Atchison, Topeka, and Santa Fe Railroad lines. The rules the Harvey Girls had to follow and the perfection that they had to display in service were phenomenal.
A Gem of Truth is set in the Grand Canyon. Why did you choose this setting?
I've been wanting to do a series on Harvey Girls for a long time, and after visiting the historic El Tovar Hotel, I knew I had to set my new series at the Grand Canyon. There's nothing like it in the world. And back in 1907—when this book takes place—it was still extremely remote and the El Tovar was at the height of its glory days as the crown jewel of the Harvey Empire.
A Gem of Truth is the second novel in the SECRETS OF THE CANYON series. What is the connecting element for all of the books in this series?
Each book has the canyon that connects them, as well as the Harvey Girls and the El Tovar. Every one of the heroines has a secret that must come to light.
What do readers have to look forward to in the rest of the series?
A Mark of Grace releases in January of 2023. Ruth Anniston, a secondary character and head waitress in the first two books, is the heroine.
What do you love most about writing historical romance novels?
I love history—and love how we can learn from it. I also receive so many letters from readers whose lives have been touched or changed by my books. I think that's what I love most—seeing how story impacts people's lives for the better.
How can readers connect with you?
Readers can connect with me through my website, http://kimberleywoodhouse.com
Thank you so much for joining us today, Kimberley! Reader's, A GEM OF TRUTH releases tomorrow!
A GEM OF TRUTH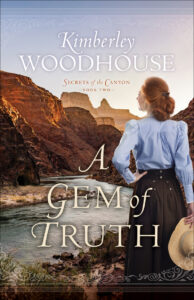 Escaping her shattered past is much more difficult than she imagined.
Julia Schultz has a reputation for being a storyteller, or as others see it, a liar. But with her dark and painful past, stories are all that have kept her company throughout her life. Longing for a fresh start and a second chance to earn real trust, Julia takes a job as a Harvey Girl at the El Tovar Hotel, where she's challenged to be her true self.
Learning the trade of a master jeweler is hard work, but Christopher Miller takes pride in running his family's small shop and earning the respect of the people around him. But when he discovers that he has six weeks to buy his building from his landlord before it is sold, he must find a way to save his grandfather's legacy.
United by the discovery of a legendary treasure, Chris and Julia find hope in each other. But when Julia's past catches up with her, doubt creeps into Chris's heart. Can he really trust her and her stories?