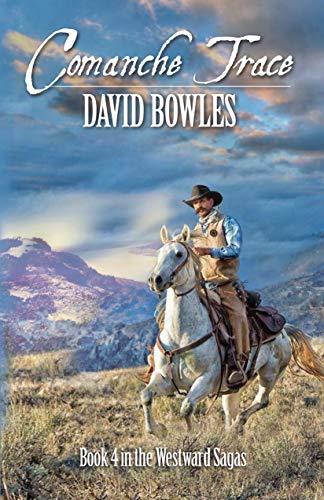 Comanche Trace By David A Bowles
Texas Ranger, Will Smith moved with his family to Texas during the early days of the Republic. Family strife is caused by the Comanche Indians who kill Will's brother James and abduct his nine-year-old nephew Fayette. Will pursues the Indians alone in hopes of rescuing the boy. Will ends up caught up in the rifts between the Republic of Texas, The Mexican government, and the Indian nation. His quest for revenge is waylaid when a Mexican beauty captures his heart. However, Will presses on and makes a frantic and dangerous journey back to Texas to warn President Mirabeau Lamar that the Mexican consider his Santa Fe Trade Expedition and armed invasion of Mexican Territory. It is a warning Lamar does not heed.
Comanche Trace: Book 4 in the Westward Sagas – Kindle edition by Bowles, David. Literature & Fiction Kindle eBooks @ Amazon.com.
Comanche Trace: Book 4 in the Westward Sagas: Bowles, David: 9780999762240: Books – Amazon.ca

"The hundred-year odyssey of the Westward Sagas is not about war, but how it affected the Mitchell family. Children of the Revolution: Book 3 in the Westward Sagas Series takes up where Adam's Daughters: Book 2 left off-in Tennessee shortly after statehood. The series continues with the next generation of the Mitchell Family. Peggy, the protagonist in Adam's Daughters, takes on a stronger role as she matures into a confident woman courted by British nobility. Children of the Revolution uncovers the untold reason North Carolina never ratified the U.S. Constitution. Adventure, intrigue, romance and tragedy are woven into the story of the first generation of Americans."
ABOUT THE AUTHOR:
David Bowles is a fifth generation Austinite. Both parents from early Travis County pioneers. His great grandmother Elnora Van Cleve is recorded as the first birth in Austin, Texas during the days of the Republic. The author and his dog Becka travel in a class A motor-coach they call home, telling and writing the stories of the Westward Sagas. David grew up listening to stories of his ancestors told by his elders. Their stories so fascinated him that he became a professional story-teller, spinning tales through the groups frequently about his adventures on the open road and the books he has written. The first three books in the Westward Sagas have each won awards and Beta readers have given the soon to be released Comanche Trace excellent reviews.