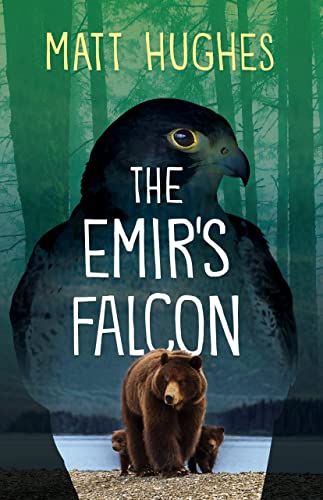 The Emir's Falcon By Matt Hughes
The Emir's Falcon, an exciting new young adult tale of outdoor adventure by award-winning Canadian author Matt (Matthew) Hughes, is now available in print, ebook, and audiobook editions from Saskatchewan publisher Shadowpaw Press Premiere.
"The novella evolved out of a real event that happened when I was an aide to Canada's Minister of the Environment," Matt Hughes explains. "The government decided to give a peregrine falcon to a Persian Gulf emir.  I wondered how the teenage volunteers who worked with the birds at the breeding facility would react. Almost forty years later, I stopped wondering and made a story out of it."
"The Emir's Falcon is a sharp, fast-moving tale with keenly observed young characters from very different backgrounds, brought together in the evocatively depicted Swan Hills of Alberta," said Edward Willett, editor and publisher of Shadowpaw Press. "I'm thrilled to be able to make it available to readers of all ages and to also offer an audiobook version narrated by the wonderful Elizabeth Klett."
The Emir's Falcon can be ordered through any brick-and-mortar bookstore. This handy URL provides links to multiple online sources for print, ebook, and audiobook editions:  https://www.books2read.com/emirsfalcon.  It can also be purchased directly from Shadowpaw Press at https://shadowpawpress.com/product/the-emirs-falcon/.
For wholesale orders, contact Alpine Book Peddlers (www.alpinebookpedlers.ca) at 403-678-2280 or info@alpinebookpeddlers.ca, or order through Ingram.
More about the book
Bernie Cholach's dad wants him to take over the family's rural Alberta feedlot, but Bernie has other ideas: he wants to be a biologist, an interest sparked by his experiences as a volunteer bird handler at a Canadian Wildlife Service facility that breeds and rears peregrine falcons for release into the wild.
Sheik Nasur bin Mukhta, son of a Persian Gulf emir, studying petroleum engineering at the University of Alberta, dutifully accepts his life's course, laid out for him by his traditionalist culture.
Rosie Leboucan, daughter of a Métis trapper, running her injured dad's trap line in the Swan Hills, is focused on keeping a roof over their heads and food on the table.
Then the Government of Canada decides to give the emir one of the peregrines as a diplomatic gift. It's more than Bernie can stand. Impulsively, he takes the bird he has been tending—he's named it Skyrider—and flees to a remote cabin in the Swan Hills wilderness.
The RCMP mount a search. Nasur, sent by his father to collect the bird, insists on being on the scene—which turns out to be both Rosie's trapping territory and the territory of a hungry and dangerous mama grizzly bear with cubs.
The paths of the young people and the bear converge—and their coming together will send each in a new direction.
Praise for The Emir's Falcon
"One peregrine falcon raised in a breeding facility, to be released into the wilds of northern Alberta. Three older teens from different cultures, their lives already mapped out by parental expectations. An impulsive action by one places that falcon at the crux of a potential international incident and brings all to the brink of catastrophe in the wilderness. A fascinating and insightful read." – Alison Lohans, author of Timefall, Don't Think Twice, and twenty-eight other books for young people and adults
"The Emir's Falcon is a rich story that soars with action, drama and detail. It raises important issues of cultural and environmental conflict and still entertains and surprises right to the last sentence." – Arthur Slade, author of Dust, winner of the Governor General's Award
About the Author
Matt (Matthew) Hughes writes fantasy, space opera, and crime fiction. He has sold twenty-four novels to publishers large and small in the UK, US, and Canada, as well as nearly 100 works of short fiction to professional markets. His latest novels are A God in Chains (Dying Earth fantasy) from Edge Publishing and What the Wind Brings (magical realism/historical novel) from Pulp Literature Press. He has won the Endeavour and Arthur Ellis Awards and has been shortlisted for the Aurora, Nebula, Philip K. Dick, Endeavour (twice), A.E. Van Vogt, Neffy, and Derringer Awards. He has been inducted into the Canadian Science Fiction and Fantasy Association's Hall of Fame. Website: www.matthewhughes.org