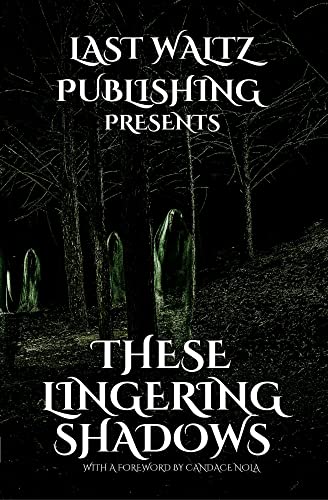 THESE LINGERING SHADOWS by Daemon Manx
An Anthology of Gothic and Haunting Tales
Last Waltz Publishing brings you an anthology of gothic tales and horrors for the season, filled with, tragedy, heartbreak, wonderment, and terror. Journey into these thought-provoking worlds and behold the majesty of traditional gothic elements delivered with a modern style. Inspired by a true love for the Macabre and the unnerving atmosphere of the Gothic genre, author Daemon Manx has gathered together some of the greatest literary voices of our time.
With a foreword by Candace Nola this anthology of fifteen short stories from some of the most terrifying authors in today's horror world will transport you into the shadows.
Light a candle and lock the doors because the hour of the witch is close at hand. The tales within this haunting collection are of dark places and shadows, catacombs and hidden passages, witches, vampires, secrets and curses. There are stories of deception, possession, despair and remorse, betrayal and of course … death.
These Lingering Shadows features stories from:
Jeremy Megargee – "A Dream of Dead Leaves"
Christy Aldridge – "A Halloween Ghost Story"
Michael J. Moore – "Nory's"
Jae Mazer – "Behold, Death Arrives, a Duet of Ash and Fang"
Jo Kaplan – "Hallow House"
James, G. Carlson – "Flesh and Chocolate"
Heather Miller – "The Far Field"
Diana Olney – "Hell Hath No Fury"
Guy Quintero – "Cries in the Night"
Danielle Manx – "Belladonna's Curse"
Tony Evans – "The Dare"
Jack Wells – "Riding the Ghost Train"
Matt Scott – "Mine"
D.E. Grant – "The Feeding"
Daemon Manx – "Devlin's Manse"