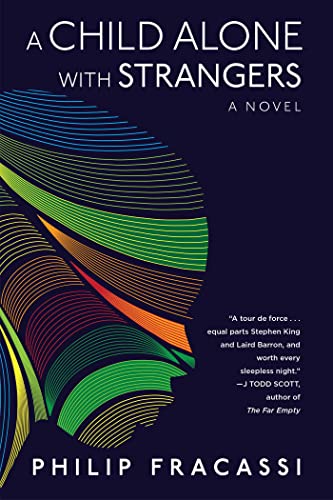 A Child Alone With Strangers by Philip Fracassi 
'Let him forget about the monsters for a while' – A dramatic, fascinating horror story!
California author Philip Fracassi works in the film industry (property master to locations manager) and writes short stories, novels, and screenplays and, quite understandably after reading this book, his is the recipient of awards and honors for his skills. The anthologies in which his works appear focus on horror stories and his own anthologies explore evil and madness. A CHILD ALONE WITH STRANGERS is a bizarre tale, one that the cover art by Claudia Noble subtly suggests!
Fracassi's vivid writing grabs attention in the Prologue (and holds it securely throughout the book!): 'The dead man was collecting flies. When the creature returned from gathering, it found pupa wiggling weakly on the floor, covered in bits of tissue and blood. The man's hands and feet remained spread, stuck to the walls and dirt, but his teeth were spilled down his chin and chest, the matter from inside his head a sodden heap in his lap…' Grisly and dark imagery, the novel initiates, and the creature plays a significant role. After the prologue, the novel ignites as follows – 'Henry's father tells him he will never leave him, then he holds Henry tight and steps into oncoming traffic. Thus begins the young boy's perilous journey from being raised by a family in San Diego to his terrifying kidnapping. Young Henry Thorne has a gift: he can visualize other peoples' feeling as colors and movement. When he is kidnapped by a group of petty criminals and held prisoner in a remote farmhouse surrounded by miles of forest, he finds himself connecting with a strange force living in the woods—using that bond to wreak havoc against his captors. Unknown to the boy, however, is that this ancient being has its own reasons for wanting the interlopers gone—there is something hidden beneath the house, tucked away in the dark, damp root cellar . . . waiting for its return.'
This novel is at once terrifying and engrossing, so exquisitely composed by an artist who has found that terra firma of fear and sarcasm and compassion that makes this story soar. Successful on every level, this book is a must read – for so many reasons! Very highly recommended.