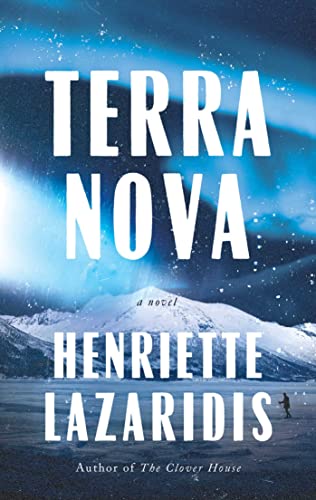 TERRA NOVA by Henriette Lazaridis
A haunting story of love, art, and betrayal, set against the heart-pounding backdrop of Antarctic exploration—from the Boston Globe-bestselling author of The Clover House.
The year is 1910, and two Antarctic explorers, Watts and Heywoud, are racing to the South Pole.  Back in London, Viola, a photo-journalist, harbors love for them both.  In Terra Nova, Henriette Lazaridis seamlessly ushers the reader back and forth between the austere, forbidding, yet intoxicating polar landscape of Antarctica to the bustle of early twentieth century London.
Though anxious for both men, Viola has little time to pine.  She is photographing hunger strikers in the suffrage movement, capturing the female nude in challenging and politically powerful ways. As she comes into her own as an artist, she's eager for recognition and to fulfill her ambitions.  And then the men return, eager to share news of their triumph.
But in her darkroom, Viola discovers a lie.  Watts and Heywoud have doctored their photos of the Pole to fake their success.  Viola must now decide whether to betray her husband and her lover, or keep their secret and use their fame to help her pursue her artistic ambitions.
Rich and moving, Terra Nova is a novel that challenges us to consider how love and lies, adventure and art, can intersect.
BUY LINKS
B&N
AMAZON
INDIEBOUND
BOOKSHOP
ABOUT THE AUTHOR:
I grew up in the Boston area, the only child of expat parents, speaking Greek as my first language. My earliest encounters with stories came through the episodes from the Odyssey that my father told me at bedtime. Since hearing those tales of the traveler looking for his home, I've been interested in the issues of exile and nostalgia, belonging and identity, which I explored in my debut novel THE  CLOVER HOUSE and in various essays and stories.
A lifelong fascination with explorer Robert Falcon Scott led me to write the forthcoming novel TERRA NOVA (December 6, 2022, Pegasus Books) about two fictional Antarctic explorers in 1910 and the woman who loves them both.
Besides TERRA NOVA and THE CLOVER HOUSE (a Boston Globe best-seller), I have published work in venues including ELLE magazine, Narrative Magazine, Forge, Salamander, New England Review, The Millions, The New York Times, and the Huffington Post.
My devotion to storytelling led me to degrees in English literature from Middlebury College, Oxford University, where I was a Rhodes Scholar, and the University of Pennsylvania. I went on to teach English literature at Harvard for ten years before quitting to write full time and raise my two children who are now fully -formed adults. I now teach writing at GrubStreet in Boston and run the Krouna Writing Workshop in northern Greece.
My favorite things to do besides read and write? I train regularly on the Charles River as a competitive rower and I am deeply in love with trail and mountain running and all forms of downhill (and uphill) skiing.
AUTHOR WEBSITE: https://www.henriettelazaridis.com/