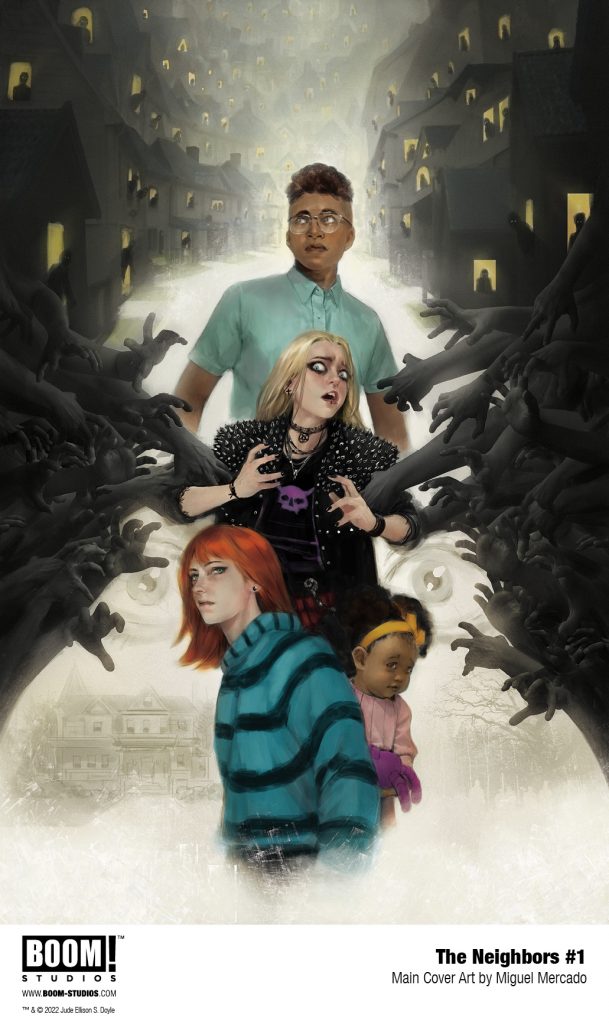 Brand New Changeling Horror Series THE NEIGHBORS From Jude Ellison S. Doyle and Letizia Cadonici
Discover a Thrilling and Terrifying New Horror Series From Acclaimed Author of 'MAW' in March 2023
BOOM! Studios announced today THE NEIGHBORS, a brand new five-issue limited series from the highly acclaimed writer Jude Ellison S. Doyle (Maw) with artist Letizia Cadonici (House of Slaughter) and colorist Alessandro Santoro (Bloom) that treads new ground in changeling horror, available in stores March 2023.
When Janet and Oliver Gowdie move to a quaint mountain town, their daughter Casey becomes part of a horrific chain of events revealing that their neighbors are anything but what they seem. Soon, an unsettling old woman named Agnes Early fixates on Janet and Oliver's other daughter–2-year-old Isobel.
It becomes clear that it's impossible to know who to trust… or who is even still human…
Jude Ellison S. Doyle (he/they) is a journalist, opinion writer and now comic book writer whose first limited series, MAW, was released by Boom! Studios in 2021. He has also written two non-fiction books, Trainwreck: The Women We Love to Hate, Mock and Fear… and Why (Melville House, 2016) and Dead Blondes and Bad Powers: Monstrosity, Patriarchy and the Fear of Female Power (Melville House, 2019). His essays have appeared all over the Internet, and in many anthologies, most recently It Came From the Closet: Queer Reflections on Horror (Feminist Press, 2022).
"I am so excited for THE NEIGHBORS. It's a story about what scared me as a kid, what scares me as a parent, and the terror that shadows queer and trans people who are raising families in 2022," said Doyle. "Letizia Cadonici's witchy, haunted art provides such a beautiful portal into this other world. I sincerely hope you'll walk through and see what's inside."
Letizia Cadonici is an Italian comic artist born in Rome. She works for several publishers in Italy including Star Comics, Bugs Comics, Becco  Giallo, Shockdom, and TacoToon, and is best known in the US for her work on House of Slaughter with Sam Johns for BOOM! Studios.
"I am a huge fan of horror and mystery stories so when I read the script for THE NEIGHBORS that Jude had written I really thought it was tailor-made for me," said Cadonici. "Jude has created such a wonderful and terrifying world, full of so many intriguing symbols and monstrous creatures, that I'm seriously having the time of my life drawing every little detail!"
THE NEIGHBORS #1 features cover art by highly acclaimed artists Miguel Mercado (Mighty Morphin Power Rangers), Rámon K. Perez (Jane), Frany (Buffy the Vampire Slayer),  Fábio Moon (Daytripper), Ariela Kristantina (Maw), and more.
"THE NEIGHBORS is just as compelling,brutally honest, and socially relevant as Jude's previous series Maw, and with the addition of artist Letizia and colorist Alessandro, this brand new horror series is bound to entertain and horrify in equal measures," said Sierra Hahn, Executive Editor, BOOM! Studios.