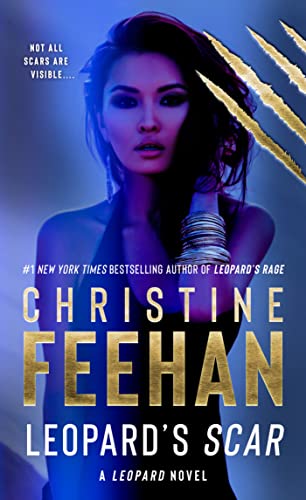 Leopard's Scar by Christine Feehan
Strength with vulnerability! Great romance!
Gedeon and Meiling are the perfect balance of individual strengths, intelligence, and vulnerabilities that bring them together but also drive the internal conflicts keeping them apart until the desire, revelations, and emotions they discover push them over the edge and they work to figure out how it all fits together. Love this journey with all its twists!
All balanced with External conflicts that also keep the pages turning in suspense, fed by the world they belong to, the partnership they form, those they help and hunt. We learn more about them and leopard lore as they connect with other favorite leopards and danger closes in. Those who hunt her, despise her existence and how she could threaten their power target her through others. This powerful duo becomes determined to remove the threats to her and others permanently. The hunters become the hunted! Love karma being delivered leopard style!
An exciting adventure with one of my favorite couples to date, I throughly enjoyed getting to know Gedeon and Meiling. A story of romance, humor, action, emotion on all scales, discovery and growth as individuals and a couple as they weave themselves into the threads of the series. Great story and I can't wait to see what comes next!