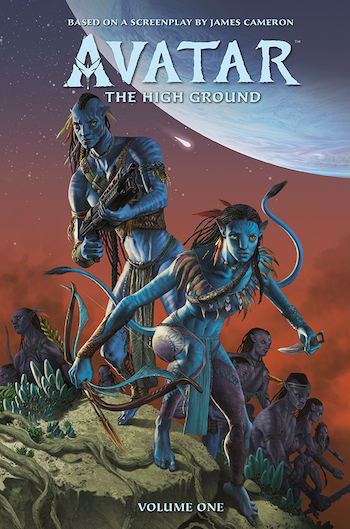 A Direct Prequel to James Cameron's 'Avatar: The Way of Water'

Award-winning author Sherri L. Smith (The Toymaker's Apprentice, Orleans) adapts one of James Cameron's original Avatar screenplay story ideas in a trilogy of graphic novels titled Avatar: The High Ground! Volume 1 features art by Guilherme Balbi (Alien: The Original Screenplay), colors by Michael Atiyeh (Assassin's Creed: Valhalla, Dragon Age: Dark Fortress) and Wes Dzioba (Avatar: Tsu'tey's Path, Mystery Science Theater 3000), letters by Michael Heisler (Tomb Raider, Mass Effect: Foundation), with cover art by Doug Wheatley (Avatar: Tsu'tey's Path)!
It has been more than a decade since the humans were forced to leave Pandora, but now they're returning—with an armada of heavily-armed starships! After years of peace, Jake Sully has settled down with Neytiri and raised a family, so for him, the stakes are even higher than when he first went to war against the corporate might of the RDA.
Avatar: The High Ground ventures into all-new territory in the Avatar saga and is a direct prequel to the highly-anticipated film sequel, Avatar: The Way of Water!
During the development process of creating the four Avatar sequels, a lot of new ideas and stories were created and discussed. One such EPIC original story idea that didn't make it into the sequels was James Cameron's original story—"The High Ground." Cameron shared what he had written with Dark Horse Comics and it is now adapted in this new exciting trilogy!
Avatar: The High Ground Volume 1 hardcover is available now at your local comic shop and bookstores. Avatar: The High Ground Volume 1 retails for $24.99.
Avatar: The High Ground Volume 2 and 3 will be available for purchase on December 14, 2022 from comic shops, and on January 10, 2023 from bookstores and digital platforms, respectively. The books are available for pre-order now from comic shops and bookstores.