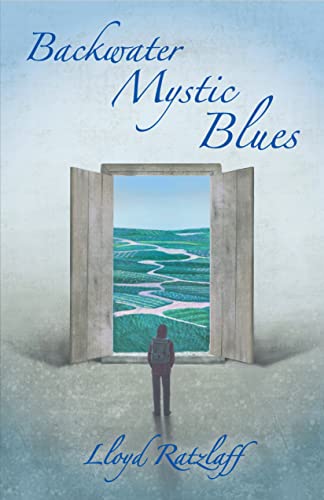 Backwater Mystic Blues By Lloyd Ratzlaff
 Backwater Mystic Blues, the second acclaimed collection of essays reflecting on nature, spirituality, and growing up on the prairies by noted Saskatchewan author Lloyd Ratzlaff, now has a new home with Shadowpaw Press Reprise, which publishes new editions of notable, previously published work. Shadowpaw Press also recently republished Ratzlaff's first collection of essays, The Crow Who Tampered With Time.
"Many thanks to Shadowpaw Press for publishing new editions of Backwater Mystic Blues and The Crow Who Tampered With Time," Ratzlaff says. "These books first confirmed me as a writer, The Crow a tribute to an urban park which became my sanctuary during a period of loss, and Backwater a tribute to my home village and its countryside. I'm delighted and more than grateful to Shadowpaw for giving them another life and offering them to new circles of readers."
"As with Lloyd's previous collection, each essay in Backwater Mystic Blues sparkles, provoking nostalgia, smiles, introspection, and reflection," says Edward Willett, editor and publisher of Shadowpaw Press. "I'm excited to release this new edition of Backwater Mystic Blues, and I hope it will find many new readers who will enjoy it as much as I did."
Backwater Mystic Blues can be ordered through most bookstores, online or off. It can also be purchased directly from Shadowpaw Press at https://shadowpawpress.com/product/backwater-mystic-blues/. 
Shortlisted for the Non-Fiction Book Award and Saskatoon Book Award,
2006 Saskatchewan Book Awards
In this second suite of intimate essays, Lloyd Ratzlaff summons the secret hiding spots, makeshift rafts, and uncomplicated childhood joys that lay the foundations for adult philosophy. In tune with the vivid simplicities of the sensuous world and the honour of unassuming people, Ratzlaff explores the disguises shaped by religion, family, and memory as he recreates the discovery and illumination that his past has offered.
ABOUT THE AUTHOR:
The most recent book by Lloyd Ratzlaff is a third collection of literary nonfiction, Bindy's Moon (Thistledown Press). His essays are also featured in several anthologies, including Sons and Mothers: Stories From Mennonite Men, Reading the River: A Traveller's Companion to the North Saskatchewan River, and apart: a year of pandemic poetry and prose. A former minister, counsellor, and lecturer at the University of Saskatchewan, he has taught writing classes for READ Saskatoon, the Western Development Museum, and the University of Saskatchewan Certificate of Art and Design. He was a columnist for Prairie Messenger Catholic Journal through its last nineteen years of publication. He lives in Saskatoon.