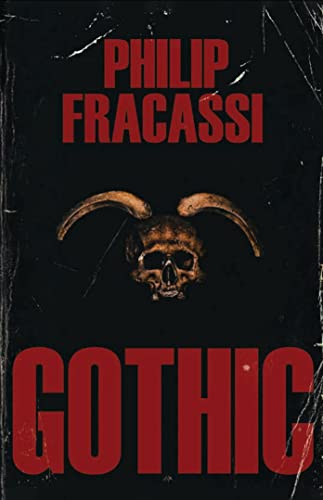 GOTHIC by Philip Fracassi
On his 59th birthday, Tyson Parks—a famous, but struggling, horror writer—receives an antique desk from his partner, Sarah, in the hopes it will rekindle his creative juices. Perhaps inspire him to write another best-selling novel and prove his best years aren't behind him.
A continent away, a mysterious woman makes inquiries with her sources around the world, seeking the whereabouts of a certain artifact her family has been hunting for centuries. With the help of a New York City private detective, she finally finds what she's been looking for.
It's in the home of Tyson Parks.-
Meanwhile, as Tyson begins to use his new desk, he begins acting… strange. Violent. His writing more disturbing than anything he's done before. But publishers are paying top dollar, convinced his new work will be a hit, and Tyson will do whatever it takes to protect his newfound success.
Even if it means the destruction of the ones he loves.
Even if it means his own sanity.
ABOUT THE AUTHOR:
Fracassi grew up outside Detroit, MI, but moved away from home as a teenager to live in Chicago, where he managed a rock band. By the time he was of drinking age, he'd decided his future was in the movies, and moved to Los Angeles where he still resides. While holding every job from property master to locations manager, Fracassi continued to hammer out screenplays, award winning short story collections and novels.
The result is a blockbuster lineup of chills and thrills: in addition to Child Alone with Strangers, Fracassi's Gothic comes from Cemetery Dance in February and Boys in the Valley, the first of a two-book deal from Tor Nightfire and Orbit UK, arrives in July 2023.
Fracassi's distinct mix of adrenaline-pumping horror blends pulpy, traditional themes with a distinctly upmarket voice.  Among other accolades, New York Times reviewer Terrence Rafferty said Fracassi "builds his horrific tales slowly and carefully…his powers of description are formidable; and he's especially skillful at creating, and sustaining, suspense."