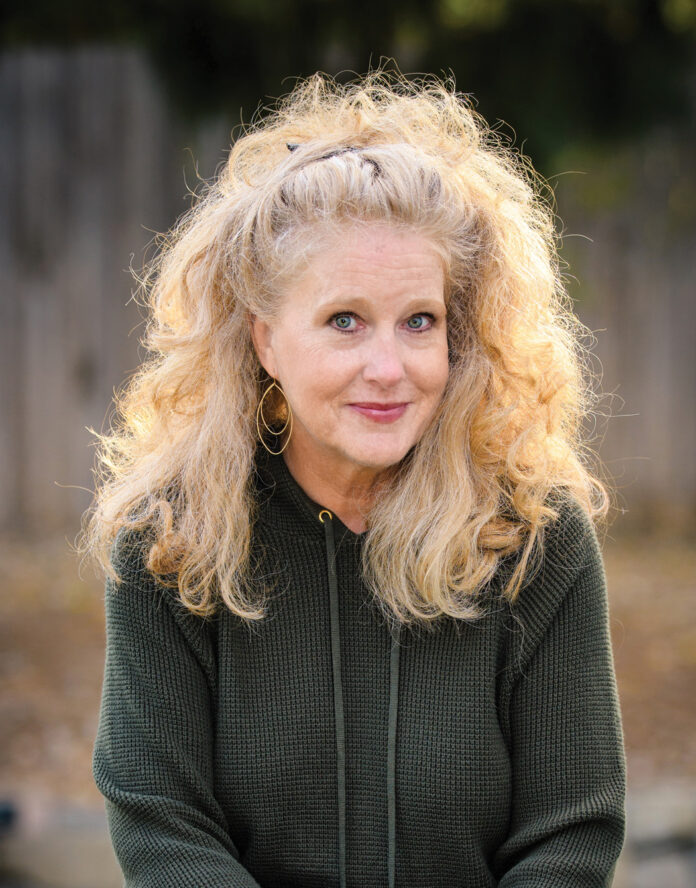 Today, we welcome Jen Turano and will be talking about her latest release A MATCH IN THE MAKING.
Match in the Making is book one in your new series, THE MATCHMAKERS. Can you please tell us a little bit about this book?
This story centers around Miss Gwendolyn Brinley, who finds herself in the most unlikely of situations—that being an unexpected assistant matchmaker. When Mr. Walter Townsend, an annoying gentleman if there ever was one, decides he needs the services of a matchmaker to handle all the young ladies who've decided their greatest desire in life is to become the next Mrs. Townsend, Gwendolyn finds herself responsible for sorting out his love life, a feat that's more daunting than she ever imagined.
Can you dig a little deeper in the character of Gwendolyn for us? What about her is most important for readers to know?
She's a lady who embraces an unconventional attitude for her time, and one who doesn't stand back when she feels injustices are being leveled against those in vulnerable positions. She doesn't hesitate to insert herself into contentious situations, which takes the New York Four Hundred aback, especially the young ladies Gwendolyn takes to task over their unbecoming behavior.
Were there really employers dedicated to matchmaking services during the Gilded Age?
Yes, there were, but it was a very discreet business. Word of mouth was the only way a mother learned who was in the matchmaking business, and compensation was always discussed in a most careful manner because women of that day were not allowed to dabble in what was considered trade if they wanted to maintain their respectable reputations.
What inspired the idea for this series?
I have a box where I toss in ideas for books that come to me at the oddest of times. Doing research stokes a lot of ideas, as does movies, other books, and life in general. For this series, I was watching a movie and there was a matchmaker in a scene, and the idea for a series began formulating from there—but not a normal series. One where the matchmakers are a little peculiar and, of course, land themselves in the most unlikely of situations. I just happened to pull that note out of the box when I was finishing up a different series and thought . . . Hmmm. Maybe I should do a matchmaking series next.
A Match in the Making addresses themes such as rising to unanticipated challenges. Can you tell us a little more about how this idea comes into play in the lives of your characters and how that might translate to readers today?
Right from the very beginning of the book, it's clear that Gwendolyn is faced with dealing with what we'd call mean girls today. Society knows she's in Newport as Mrs. Parker's paid companion, information young ladies use to slight Gwendolyn every chance they get. She's not usually one to suffer slights in silence but feels it's not her place, as Mrs. Parker's employee, to react to their inappropriate behavior—until they turn their attention to a wallflower by the name of Miss Adelaide Duveen. That's when Gwendolyn's true personality comes out and she points out the errors of these young ladies' ways, something no one has ever had the audacity to do within the hallowed midst of the upper crust. My hope in writing about what amounts to different cases of bullying is to encourage people to stand up to injustices and to step in and assist anyone who is being bullied, no matter if it causes unpleasant conversations or sets a person against people they consider friends.
Was there anything that you found particularly interesting in your research that you included in the book?
I was fascinated by Trinity Church located in Newport, which has enclosed pews that families buy and use for the summer Season. It's gorgeous and has a cemetery right beside it where many a prominent Newport resident was laid to rest. I also included the Newport Casino into the story, which is this fabulous—not gambling den like you'd imagine—but almost along the lines of a country club, complete with tennis courts, glamorous dining rooms, and ballrooms where many a dance has been held.
With the rise of franchises like the Bridgerton books and streaming series, what do you think is most alluring to fans about storylines featuring the marriage mart of high society?
I think it's the glamour that attracts fans, and all the rules of etiquette, paired with the most glorious clothing, because who wouldn't long to be dressed to the nines and then enjoy the delights of an extravagant ball? It also might be the lifestyle, because it's difficult for us to imagine having a lady's maid at one's disposal, or a cook who prepares gourmet meals every day.
What do you hope readers take away from this story?
One of the things Gwendolyn comes to realize is that the life she thought she was meant to live wasn't a life that was going to satisfy her, and that it was okay for her to change course and embrace something she never considered.
Can you share what you're working on next?
I have just written the end on the second book in the series, To Spark a Match. It's Miss Adelaide Duveen's story—the wallflower in book one. It's still a hot mess, so I'll be fluffing it up, and then I'll move on to writing the third and final book of THE MATCHMAKERS—which I can't release the title of that one just yet—but it's Camilla Pierpont's story, who's a confirmed spinster who dabbles in making matches of the affectionate kind.
How can readers connect with you?
Purchase Link – http://www.bakerpublishinggroup.com/books/storing-up-trouble/390530 Instagram – https://www.instagram.com/jenturanoauthor/ Facebook – https://www.facebook.com/jenturanoauthor Twitter – @JenTurano Web – www.jenturano.com
Thank you for joining us today Jen. Readers, here's a quick look at A MATCH IN THE MAKING:::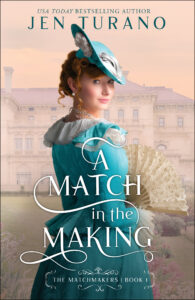 Miss Gwendolyn Brinley accepted a temporary paid companion position for the Newport summer season, believing it would be a lark to spend the summer in America's most exclusive town. She suddenly finds her summer turning anything but amusing when her employer expects her to take over responsibilities as an assistant matchmaker. Tasked with the daunting prospect of attaining advantageous matches for her clients, Gwendolyn soon finds herself in the employ of Mr. Walter Townsend, the catch of the Season, but a gentleman Gwendolyn finds beyond irritating.
Walter Townsend is reluctantly in search of a wife for the sake of his unruly motherless children who cannot keep a governess for long. What he wasn't expecting was Miss Brinley, an amateur matchmaker who turns his quest for a new wife into a complete and utter debacle. Constantly besieged by society ladies on a mission to win his affection, Walter must find a way to overcome their inundating attention–and his unexpected attraction toward Gwendolyn.
The more time they spend together throughout the Newport Season, the harder it is for Gwendolyn to find Walter a wife when she realizes his perfect match might be . . . her.