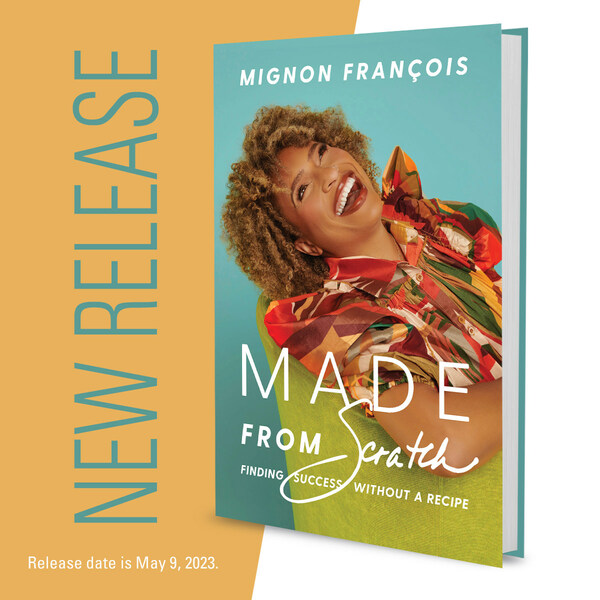 Made from Scratch: Finding Success Without a Recipe 
Pre-orders for the much-anticipated autobiographical release telling the story of widely regarded entrepreneur Mignon François, founder and CEO of The Cupcake Collection (TCC), are now available at rhboyd.com/madefromscratch.
Set for release on May 9, Made from Scratch: Finding Success Without a Recipe is the story of a woman moving beyond her obstacles to find success with no presets, mapping a journey that led to the joy that has become synonymous with Mignon François.
François is a speaker, entrepreneur, and community leader who has inspired thousands through her "Follow Your Spirit" approach to life. In Made from Scratch, François shares her story of climbing out of a life of upsets, setbacks, struggle, and lack to building a brand and legacy to bless her and future generations.
"All you have is all you need," is the life lesson baking icon François learned as she turned the five dollars she had to feed her family dinner for the week into a multi-million-dollar bakery brand with over 5 million cupcakes sold since 2008 when the TCC was founded.
François and the phenomenal story of TCC have been featured on NBC's TODAY with Hoda & Jenna, as well as in such publications as Southern Living, Entrepreneur, and Business Insider to name a few. Her success has garnered numerous awards, including Women of Legend and Merit, Entrepreneur of the Year, Women's Empowerment Innovator, NAACP Powershift Entrepreneur, and Black Enterprise magazine's Family Business of the Year.
When François decided it was time to tell her story, she thought R.H. Boyd was a natural fit. François saw the partnership with the 127-year-old company as an opportunity to help fulfill her personal mission of legacy building.
Since its founding in 1896, R.H. Boyd has taken seriously the charge to print, publish, and distribute resources with a targeted focus on African-American communities.
"Our company's legacy is to serve as a voice for the unheard. These kinds of partnerships further empower our community to take control of their narrative and to tell their story," says Dr. LaDonna Boyd, fifth-generation R.H. Boyd president/CEO. "We need storytellers now more than ever who won't allow others to speak for them."