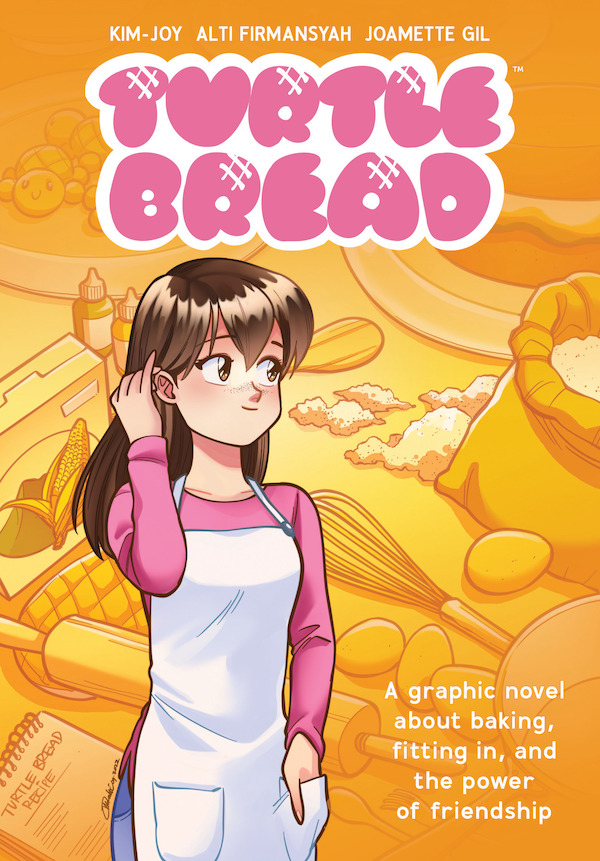 Bestselling Cookbook Author Kim-Joy Pens First Graphic Novel
Turtle Bread: A Graphic Novel About Baking, Fitting In, and the Power of Friendship
Drawn by Acclaimed Indonesian Artist Alti Firmansyah Turtle Bread Debuts Digitally from Comixology Originals on May 2, 2023 and Arrives in Print from Dark Horse Books this Fall

Kim-Joy, the bestselling cookbook author and finalist on the Great British Bake Off 2018, is writing her first graphic novel titled Turtle Bread: A Graphic Novel About Baking, Fitting In, and the Power of Friendship. The all-new book is inspired by Kim-Joy's passion for baking and events from her life: working in the mental health field, her own mental health struggles, reading comics, and her desire to help others. Kim-Joy's positive, empathetic, and vibrant personality comes through on every page and is enhanced by the inspiring illustrations of acclaimed Indonesian artist Alti Firmansyah (Star Lord & Kitty Pride, Goliath Girls, X-Men '92, Marvel Voices: Identity) who utilizes a black-and-white manga-influenced art style in her first full-length book. Together, with letterer Joamette Gil, designer Cindy Leong, and editors Felix Horne and Allison O'Toole, they create a powerful story that explores mental health, that feeling of not fitting in, community and, of course, baking. Turtle Bread will be released from Amazon's Comixology Originals exclusive digital content line on May 2, 2023, in time for Mental Health Awareness Month.
"Turtle Bread is a book about self-awareness," says Kim-Joy (Baking with Kim-Joy, Celebrate with Kim-Joy, Christmas with Kim-Joy, and Bake Me a Cat). "It's about that feeling of loneliness, of not fitting in or feeling good enough, of self-criticism, and the path towards self-acceptance. This is explored through baking, and in particular, the symbolism of the turtle–coming out of its shell and moving forward; however slowly that may be. Hence: Turtle Bread! (And yes, there's actual turtle themed bread! Plus loads of other recipes). It's NOT a magical story about how baking and friendship fix everything, but a story about the small steps forward (and sometimes sideways and backwards) gradually adding up."
Kim-Joy continued, "I'm in absolute awe of Alti's artwork in the book–it is so expressive and emotive; you can really feel a connection to the characters on each page. As soon as I was introduced, I instantly loved Alti and her work."
In Turtle Bread, a young woman named Yan who has a passion for baking stumbles upon a local Baking Club on her way home from another unsuccessful job interview. Her social anxiety tries to keep her away but the bakers encourage her to come out of her shell, especially the caring and supportive Bea. As the club bakes together, Yan discovers that her new friends may need her too, more than she realizes…
Beatrice, Yan, Amit, Zara, and Geraint make for a motley cast, each with their own individual issues and life challenges they are trying to cope with–from death, to finding romantic partners, to cancer, to divorce, to children, to keeping a job. But when Bea abruptly leaves Baking Club without a trace, they must hold it together and head out in search of answers and closure.
"Turtle Bread is a story about the strength of vulnerability; how showing a little of our softness from beneath a tough exterior shell can break down barriers between us that serve to reinforce the loneliness in the world," says Kim-Joy. "Being cognizant of who we are and how we affect others is a gift. I want people to read Turtle Bread and feel less alone, comforted, and inspired to drop their armour, come together and bring meaning to their lives; in the same way separate ingredients come together when baked to form something fresh and new."
Turtle Bread arrives digitally in May from Comixology and in print from Dark Horse Books this fall. Turtle Bread (160 pages / b/w / on sale October 3, 2023 in comic shops and everywhere books are sold / MSRP: $19.99/$25.99 pbk / ISBN 978-1-506730981 / Dark Horse Books)
Turtle Bread is now available to pre-order from Amazon, Barnes & Noble and at your local comic shop and bookstore.
Amazon's Comixology Originals exclusive digital content line is available at no additional cost for members of Amazon Prime, Kindle Unlimited, and Comixology Unlimited, and for purchase 
atamazon.com/comixology
. Prime Reading offers all Amazon Prime members a rotating selection of over a thousand top Kindle books, magazines, short works, comic books, children's books, and more – all at no additional cost. Kindle Unlimited gives customers access to more than 1 million titles, including thousands of audio books, and current magazines for just $9.99 a month with a free trial period 
atamazon.com/kindleunlimited
. Comixology Unlimited offers over 45,000 comics, graphic novels and manga for just $5.99 a month with a free trial at 
amazon.com/comixologyunlimited
.
About the Creators
Kim-Joy is the bestselling author of four cookbooks Baking with Kim-Joy, Celebrate with Kim-Joy, Christmas with Kim-Joy, and the most recent Bake Me a Cat, as well as the card game Kim-Joy's Magic Bakery. She rose to fame having made it to the final of the Great British Bake Off 2018 with her unique, intricate baked creations that captured the hearts of the nation. Her iced woodland creatures, space turtles and beautifully decorated cakes – along with her calmness and vibrant positivity – put a smile on everyone's face and Kim-Joy has since earned a legion of fans around the world. Having previously gained a Masters (distinction) in Psychology and working as a qualified Psychological Wellbeing Practitioner and in a variety of roles within the mental health field, she now devotes her time to baking up creations and recipes that bring a little Kim-(Joy!) to as many people as possible, and continues to be open about her own mental health struggles and is an advocate for better mental health. She also supports many charities and is an ambassador for The Wren Bakery; a local Leeds based charity helping women who experience disadvantage shape a better future for themselves by gaining skills in baking. Kim-Joy was born in Belgium to a Malaysian–Chinese mother and English father, she grew up in Belgium and greater London, studied in both Bristol and Leeds, and now lives in Leeds with her partner Nabil, and her cats Inki and Mochi. Follow Kim-Joy on social media @kimjoy (insta) @kimjoyskitchen (tiktok, Twitter), @Kim-Joy (YouTube)
Alti Firmansyah is a professional artist who has been working in the comic industry since 2012. Her first published work was Titan comic's Tomorrowland. She also made an appearance in Heavy Metal Magazine – Maximum Force. Her 1st appearance in Marvel came 2015 with Star-Lord and Kitty Pryde. She co-created Comixology Originals Goliath Girls with Sam Humpries. Her other works include X-Men '92, Thor vs. Hulk, Gwenpool, Spider-Gwen, The Unstoppable Wasp, Fearless, and Marvel Voices: IDENTITY in 2021. Follow Alti on social media @altifirmansyah.