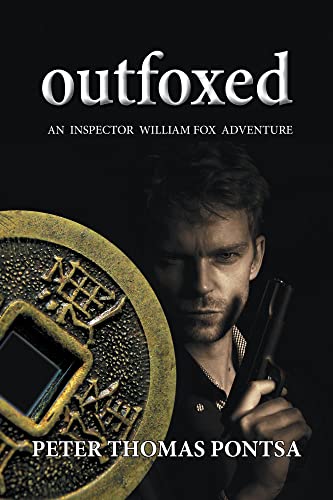 Outfoxed: An Inspector William Fox Adventure by Peter Thomas Pontsa
'That was an ambush. A distraction. And we fell for it' – A sizzling new series opens!
Canadian author Peter Thomas Pontsa has retired from his successful career in the dental industry having published articles in dental journals, and now he makes his debut as a novelist, having studied creative writing at the University of Waterloo. He is a member of Wordsmiths and an associate member of Crime Writers of Canada. Racing British sports cars and being a student of taekwondo enhance his rich life.
Pontsa quite successfully launches a new adventure hero in what appears to be the launch of an ongoing series. The book's cover art rings true as does the primary character's introduction: Inspector William Fox 'was thirty-two years old and handsome in a rugged way with balanced features, brown hair, and eyes that unmasked an inner calm and intelligence…William's yellow RCMP jacket fell open over his black jeans exposing his standard-issue Smith & Wesson sidearm.' Smart, savvy, and unique, Fox carries the reader through a mesmerizing tale, distilled as follows: 'Sometimes Inspector William Fox likes to go off script, like when chasing gangsters in his cigarette boat on the St. Lawrence River. For one case, the RCMP officer with a penchant for luxury fashion finds himself teamed up with FBI Special Agent Patrick Reilly, an Irish lad who prefers absinthe to Guinness. The pair travel overseas to track down members of a gang who have kidnapped Tracy Jordan, an American academic and archeologist with teenage ties to William. In China, Tracy has been stealthily searching for evidence of Admiral Zheng He's 15th-century connections to the area that would later be known as Nova Scotia. It's here that Tracy and her team discover what might be Ming dynasty artifacts transported by Zheng He's "massive treasure ships" left behind on Mi'kmaq peoples' ancestral land. The tale involves the RCMP and FBI chasing the Foo Dog Triad operating in Hong Kong, mainland China, and New York City. Like Tracy and Kevin Steptoe, a Mi'kmaq lawyer, the gangsters are after the ancient Chinese treasures. The adventure wades into the Fox family's political past in South Korea, where a tragedy took place that still haunts William years later.'
This debut novel has all the elements required for initiating a political thriller series, placing before the reader apt insights into China's government, well-defined characters and events, and one superb new primary figure in William Fox! Highly recommended.
Grady Harp ReviewOutfoxed: An Inspector William Fox Adventure