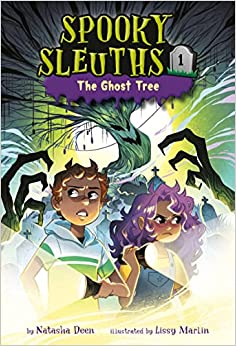 The Spooky Sleuths Series By Natasha Deen
Is it science…or strange and ghostly?
Asim's new town is freaking him out! There are weird noises at night, eerie lights, and now an evil tree that is growing way faster than it should. he's sure there's something supernatural going on.
His friend Rokshar believes that everything can be explained by science. But even she's worried when the tree takes control of their teacher! It's starting to look like an evil spirit straight out of Guyanese folklore is to blame. Can Asim and his friends save their teacher–and the town–from the ghost tree?
 
Find out…if you dare! It's a new spooky series based on ghost stories from Guyana
Amazon.com:  Amazon.com: Spooky Sleuths #1: The Ghost Tree: 9780593488874: Deen, Natasha, Marlin, Lissy: Books
Amazon.ca:  Spooky Sleuths #1: The Ghost Tree: Deen, Natasha, Marlin, Lissy: 9780593488874: Books – Amazon.ca
A School Library Journal Best Books of 2022

"

An excellent series starter and contribution to the supernatural mystery genre, perfect for older chapter book readers easing into early middle grade. Highly recommended."–

School Library Journal, starred review



"A spooky adventure rooted in Guyanese folklore…with just the right amount of chills."–

Kirkus Reviews
ABOUT THE AUTHOR:
Guyanese-Canadian NATASHA DEEN is a best-selling author, with novels for kids, teens, and adults, and she's a recipient of the Queen Elizabeth II Platinum Jubilee Medal. Her novel, In the Key of Nira Ghani, won the Amy Mather Teen Book Award and her most recent YA title, The Signs and Wonders of Tuna Rashad was a Globe & Mail's Top 100 Books for 2022. When she's not writing, she teaches Introduction to Children's Writing with the University of Toronto's SCS and spends an inordinate amount of time trying to convince her pets that she's the boss of the house. Visit Natasha at www.natashadeen.com.