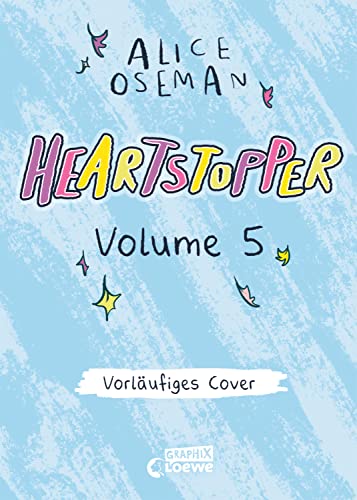 Heartstopper Volume 5 will publish on December 12th and Alice Oseman announces it will not be the end for Nick and Charlie…a Heartstopper Volume 6 will follow! 
It's the news fans have been waiting for, today author-illustrator and BAFTA nominated screenwriter 
Alice Oseman
 officially announced the 
Heartstopper Volume 5
 publication date –  December 12th – and revealed exclusive information on what readers can expect from the hugely anticipated next volume in the graphic novel series.
In a 
video 
shared to their 
1.7 million
 fans on Instagram, the global bestselling creator also surprised fans by announcing there will be a 
Heartstopper Volume 6
 to follow, with more details to come!
Alice Oseman said: 'I am really excited to be announcing details on Heartstopper Volume 5 and revealing Volume 6 for the very first time! Heartstopper Volume 5 will follow the gang as they look towards the future. Charlie is starting to find confidence in who he is and what he wants but Nick is having a bit of a crisis with his Uni choices. Is he going to go far away or stay somewhere near to Charlie? We'll see! When I started working on Volume 5, I was struggling with where the story was going but I finally figured it out – I was trying to fit too much into one volume! I realised that I needed to properly explore how Nick and Charlie's relationship progresses and give all the characters their moment to really shine. So, that's how we landed on Volume 5 AND a surprise Volume 6 – I really hope you're excited to see a bit more from Heartstopper and I can't wait for everyone to get their hands on Volume 5!'
Heartstopper is a global phenomenon. The graphic novel series dominated the international bestseller charts in 2022, achieving #1 spots on both The Sunday Times and The New York Times bestseller lists, selling well over eight million copies in more than 35 countries worldwide, with Heartstopper Volume 1 becoming the top-selling graphic novel in a combined adult and children's chart since BookScan records began.
'Perfect for teens and adults' (The Daily Mail), the graphic novel series has inspired an outpouring of love from fans old and new, and is now an Emmy award-winning live-action Netflix adaptation starring Kit Connor (Rocketman, His Dark Materials) and Joe Locke as the beloved Nick and Charlie, written and executive produced by Alice Oseman.
Originally a webcomic on Tumblr and Tapas, Heartstopper has amassed an enormous online fanbase with over 115.8 million views to date. Alice Oseman crowd-funded for a limited print run edition in 2018, meeting her funding goal in less than two hours. Hodder Children's Group published Heartstopper Volume 1 more widely in Spring 2019, followed by Volume 2 in July of the same year. Since then, Hodder Children's Group have published a further two volumes, an official colouring book and The Heartstopper Yearbook.
Alice Oseman is a critically acclaimed, bestselling author-illustrator and a BAFTA nominated and Emmy winning screenwriter based in Kent. Alice secured their first publishing deal at 17 and has gone on to write four YA novels, two novellas, five graphic novels, an official colouring book and a yearbook. Alice is the creator, writer and executive producer behind the Heartstopper Netflix adaptation and was recently named as Attitude Magazine's Person of the Year.
Heartstopper Volume 5 by Alice Oseman will be published in paperback and e-book in the UK and Ireland on 9th November 2023 (Hodder Children's Books, £12.99) 
Heartstopper Volume 5 will be published in paperback, jacketed hardcover, and e-book in the USA by Graphix, an imprint of Scholastic, on December 12, 2023