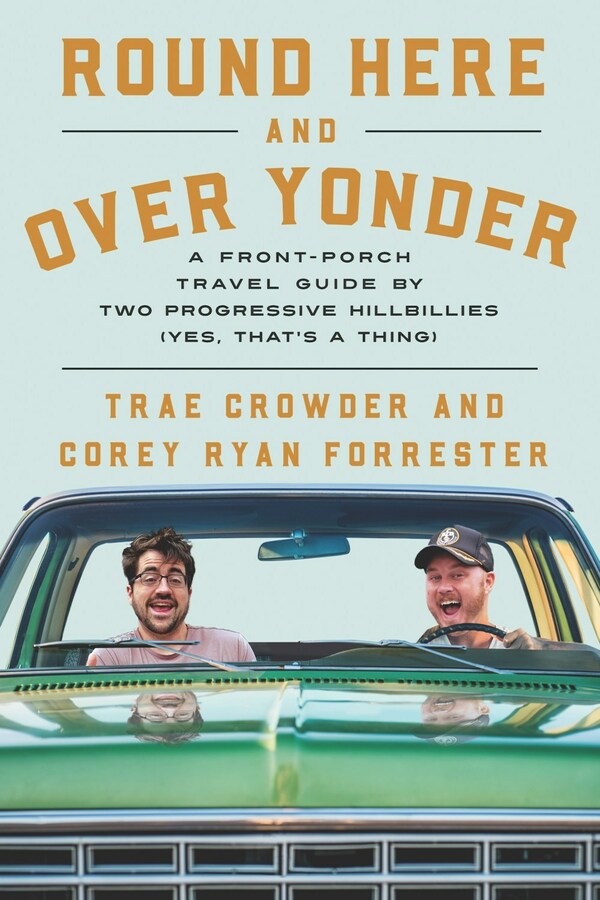 Round Here and Over Yonder: A Front-Porch Travel Guide by Two Progressive Hillbillies (Yes, That's a Thing) is a hilarious and irreverent travel guide that looks at visiting "round here" (the South) and "over yonder" (not the South)
When it comes down to it, Trae and Corey are just two Southern boys who, by virtue of luck and a little hard work, were lucky enough to see the world beyond Mammaw's front porch. In their new hilarious and heartwarming travel guide, Round Here and Over Yonder, they take reader to the smallest of small towns in the South and to major US metropolises. (Or is it metropoli? We don't know.) They even hop the Atlantic to review some of them fancy kings-and-castles places that PBS viewers can't stop yapping about. From Chickamauga to Cheyenne, New York to New Orleans, Seattle to Scotland—no matter where these two wandering jesters go, there's something to roast, something to toast, and something to learn about what ties us together as humans. Even the most outrageous of us.
In Round Here and Over Yonder, you'll find:
Loads of eccentric things folks say.


Seriously well-informed tips on exactly where to eat and what to order in each city.


Anecdotes from Corey and Trae about everything from "German 

Mardi Gras

" in 

Helen, Georgia

, to eatin' over-priced rabbit in 

Napa, California

.


Travel bingo boards and ad-libs for your own adventures.


And as many off-the-beaten-path jokes as can be packed into 256 pages!
Perfect for anyone who:
Likes to travel.


Loathes to travel.


Any Southerner who's both a little proud and a little ashamed of the South (that's all the sane ones).


Any Northerner, Midwesterner, or West Coaster who wants to know what two self-proclaimed rednecks have to say about their own hometown.


Anyone from the UK who thinks us Yanks are the craziest folks on God's green earth (cause this book will likely confirm that stereotype, yup).
"Make no mistake, Round Here and Over Yonder is laugh-out-loud hilarious, but it's also a remarkably accurate tongue-in-cheek travel guide that will both entertain and educate. In a world that can often seem way too serious, thank God for people like Trae and Corey," said Matt Baugher, publisher of Harper Horizon.
Every state, town, and holler has its stereotypes. But what if there's more to these places—many of which most of us have only heard of and never actually visited—than meets the eye? And what if it turns out that the people who inhabit them are just like us?
Round Here and Over Yonder will be available in hardcover, ebook, and audiobook. You can pre-order today at https://www.harpercollinsfocus.com/9781404117549/round-here-and-over-yonder/
About Trae Crowder and Corey Ryan Forrester:
Trae Crowder grew up in Celina, Tennessee, a town sometimes described as having "more liquor stores than traffic lights" (2-0 as of last count). Trae first gained national attention for his "Liberal Redneck" series of viral videos. He has been performing his particular brand of gravy-covered intellectual comedy for over a decade and touring nationally with Corey and their comedy and drinking partner, Drew.
Corey Ryan Forrester grew up in Chickamauga, Georgia, where he fell in love with comedy watching first Carson, then Leno, from a blanket on the floor next to his daddy, Dale. At sixteen, lying about his age, he worked up the nerve to do his first open mic. He spent the next decade hawking jokes at night then waking up to do random day jobs. He also ran the family bakery with his mom, where he was known as "Head Quiche Chef." These days he tours with Trae and Drew on the wellRED stand-up tour, making all his comedy dreams come true.
Trae and Corey's first book, The Liberal Redneck Manifesto: Draggin' Dixie Outta the Dark, written along with their buddy Drew, was published by Atria in 2016.