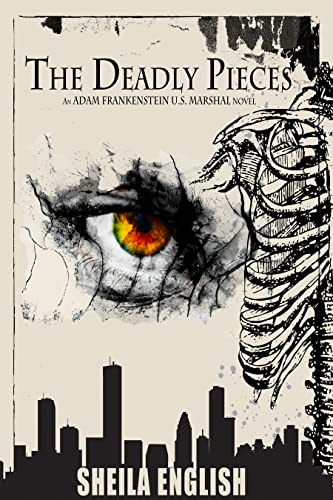 The Deadly Pieces: An Adam Frankenstein U.S. Marshal Novel By Sheila English
Adam Frankenstein may not possess a soul, but he absolutely has a heart.
Most of us know Frankenstein from the movies. But the character created by Mary Shelley was far more than most realize. Sheila English brings this classic character to life in The Deadly Pieces.
Frankenstein was created by a scientist, and it is therefore believed, he has no soul. Perhaps, but heart, this Adam is all heart hidden under scars seen and unseen. This 21st century Frankenstein is a U.S. Marshal on assignment from the League of Supernatural Hunters. It is an organization Frankenstein both loathes and needs. Many in it's ranks still consider him a 'monster'.
Enter Marshal Rebecca Hughes, tough, dedicated and a perfect match for the stoic Frankenstein. She views him as a walking contradiction. A tough Marshal, who loves a little dog.
They are thrown together by circumstance, Frankenstein is tracking a brilliant, yet 'mad' scientist who was a League member. Hughes is tracking a drug cartel with massive reach and the ability to infiltrate many organizations.
The Deadly Pieces is a fantastic mystery with fascinating characters, sinister scientists, wicked plot twists, and heart. A thrilling mystery with a thread of gothic darkness, and flair for finding monsters lurking in plain sight.