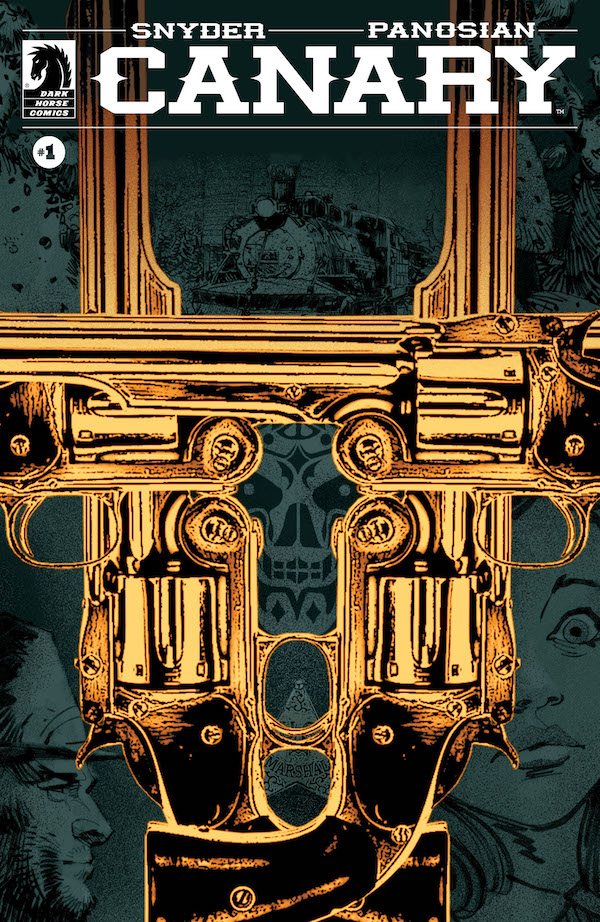 Blending modern horror, historical fact, and western lore, Dark Horse Comics, Scott Snyder (
Barnstormers
, 
Night of the Ghoul
), and Dan Panosian (
Alice Ever After
, 
Black Tape
) bring 
Canary
 to print in stunning oversized issues, featuring 56 pages! Written by Snyder, illustrated by Panosian, and lettered by Richard Starkings and Comicraft's Tyler Smith, 
Canary
 #1 will also feature variant covers by Panosian, Emma Rios (1:10 incentive variant), and Jill Thompson (1:25 incentive variant).
During the final days of the Gold Rush, one mining company in Colorado pulled up radioactive uranium–and then the mine collapsed in on itself. Legends sprang up about the mine being cursed or even haunted. Now, the Frontier is closed, the gold and silver mines have dried up, the country is becoming "civilized," and yet, in one stretch of the Rocky Mountains, a terrifying, new kind of violence is suddenly emerging: random killings as people go mad and murder neighbors or classmates without real cause. When a schoolboy kills his teacher with a hatchet, a famous federal marshal named Azrael William Holt is called in to investigate the killings. What he and a brilliant young geologist uncover is stranger and more horrifying than anything they could have ever imagined.
"Canary blends Gothic Horror and the Western genre into a world never seen before," said Panosian. "Scott created a unique take on this story and it demanded an equally unique take artistically. I wanted the look, the feel and the colors to take a reader to a place they haven't been to before. A Western is familiar to most of us – but taking that style and twisting, ever so slightly, presents a certain unease that helps shape this experience. We hope you enjoy reading it as much as we have enjoyed creating it."
Dig deeper into Canary #1 (of 3) November 1, 2023. It is now available to pre-order for $4.99 at your local comic shop.
Canary TPB (152 pages, $19.99) will also be available for pre-order starting September 12, 2023 at Amazon, Barnes and Noble, and your local comic shop and bookstore. Canary TPB will be available in bookstores June 11, 2024 and in comic shops June 12, 2024.
Be sure to follow Dark Horse Comics on social media and check our website, www.darkhorse.com, for more news, announcements, and updates!
Praise for Night of the Ghoul:
"Night of The Ghoul #1 is a superb opener to this horror series from two veteran creators. Clever writing and beautiful art add significant depth to this 50's B-horror movie inspired tale."—Major Spoilers
"An impeccably crafted, genuinely unsettling horror tale packed with depth, twists and real narrative depth."—Big Comic Page
"'Night of the Ghoul' is the perfect horror story that bridges the classic monster movies of the 30s and 40s with a modern sensibility of fandom gone too far. Some things are best left alone. Snyder and Francavilla have a blast scaring the pants off readers in this engrossing pulpy thriller that you won't be able to put down."—Lotusland Comics