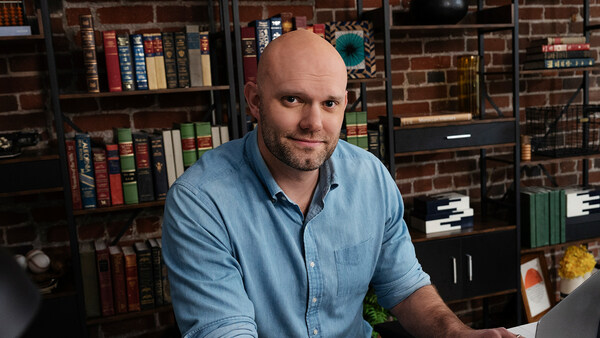 MasterClass, the streaming platform where anyone can learn from the world's best, today announced that James Clear will teach a class on how to build habits that actually work. Exclusively with MasterClass, Clear refreshes his Atomic Habits philosophy through today's lens and shares his approach to designing smarter habits and tackling today's challenges—from amping up productivity to shutting down distractions in remote or hybrid working environments. He will teach MasterClass members how to build habits that stick, improve bad habits and set themselves up for sustainable success—one small step at a time. The class is available now exclusively on MasterClass, where subscribers have unlimited access to all 185+ instructors with an annual membership.
In this class, members will learn why focusing on goals can trip them up and how to build a smarter system for success. Clear will dive into the science of habit formation and behavior change, showing how habit loops train members to repeat certain behaviors. Clear will also teach members how to use the four laws of behavior to work smarter, not harder. Finally, he will conclude with insight into how to optimize nonwork hours for greater productivity on the job.
"No matter your goals, building better habits will help you get there. And struggling with inconsistency and procrastination will make the path more difficult," Clear said. "In my class, I'll walk you through my Atomic Habits approach. I'll show you how to navigate a world where work and home are increasingly happening in the exact same spaces, and how you can keep making progress despite all the distractions."
An acclaimed author and speaker, Clear has cut through the self-help clutter with a simplified framework for making progress toward goals every day. His New York Times bestseller, Atomic Habits, has sold more than 15 million copies worldwide and been translated into more than 50 languages. Clear is also known for his popular 3-2-1 newsletter, which is distributed weekly to more than 2 million subscribers.
ABOUT MASTERCLASS:
MasterClass is the streaming platform that provides the insights, tools and lived experiences of the world's best so you can become your best. In as little as 10 minutes, you can gain new skills that can be applied immediately. With an annual membership, you get unlimited access to 185+ instructors and classes through flexible formats for any way you like to learn. Shift the way you see and experience the world through a wide range of subjects, including business and leadership, writing, cooking, acting, sports and more. Cook with Gordon Ramsay. Write with Shonda Rhimes. Get negotiation tactics from Chris Voss. Learn how to navigate relationships with Esther Perel or make bold choices with Samuel L. Jackson. Original Series provides a new way to learn through quick, 30-minute, highly engaging episodic stories designed to change the way members see the world. With MasterClass at Work, companies can develop durable skills that transform employees into future-ready leaders through cinematic lessons and life-changing stories taught by the world's best. Each MasterClass offering is available at home or on the go on mobile, tablet, desktop, Apple TV®, Android™TV, Amazon Fire TV and Roku® players and devices.
Follow MasterClass:
TikTok @masterclass
Instagram @masterclass
Facebook @masterclassofficial
YouTube @masterclass
LinkedIn @masterclass
Threads @masterclass
X @masterclass
Follow James Clear:
X @JamesClear
Instagram @jamesclear