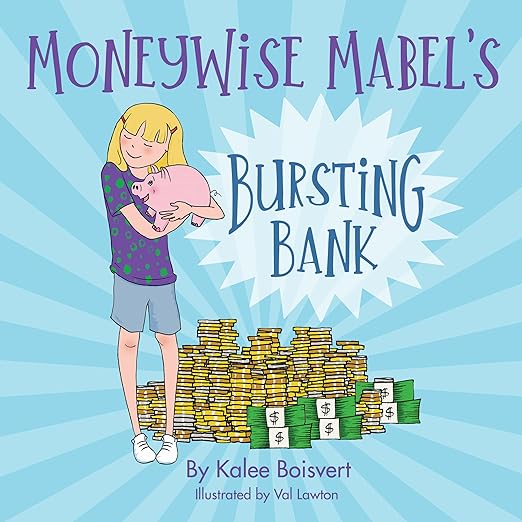 MoneyWise Mabel's Bursting Bank
A guide to finances for Kids – Say It Isn't SO!?!
Financial Expert Kalee Boisvert shares all with a new fun guide for Kids to learn and begin their money management skills
AN AMAZON #1 HOT NEW RELEASE!
What should Mabel do now that her piggybank is full to the brim? Buy lots of candy? Spend it all on that toy she's been eyeing? Finally get that unicorn sprinkler that sprays water from its horn?
When Mabel pulls her piggy bank out from under the bed, it's stuffed. She can't fit one more coin inside–Piggy is bursting!
What should Mabel do with all that money? Buy candy? Toys? Games!? Mabel's so excited that her bed becomes a trampoline and she wants to spend it all. But then her mother explains that money doesn't have to burn a hole in your pocket—a lesson that sends Mabel on a journey to learn what it means to become "moneywise." independence by opening a bank account!
Follow her as she takes her first steps to Teach your school-aged kids fundamentals about money management with this approachable, fun, and charming debut from Kalee Boisvert, full of colorful illustrations and easy-to-understand concepts.
            MoneyWise Mabel's Bursting Bank: Boisvert, Kalee: 9781684632282: Books – Amazon.ca
            MoneyWise Mabel's Bursting Bank – Kindle edition by Boisvert, Kalee. Children Kindle eBooks @ Amazon.com.
ABOUT THE AUTHOR:
Kalee Boisvert has been in the financial industry for over 15 years, but her love of money started very young. Growing up in a single parent household, she watched her mom struggle with finances and wished there was something she could do to help. Around this time, she realized she needed to find her own way to save and earn if she wasn't going to allow her circumstances to define her. And so, her own journey to financial literacy began.
Today, as a single mom and financially independent woman, Kalee is called to support women in their financial lives. She felt the pull toward a career that would allow her to pursue this deeply personal goal to advocate for women and their money, which led her on the path to becoming a financial advisor. Being an advisor allows her to work directly with women to empower and support them and help put an end to any money-related stress and doubts.  
To further her efforts supporting financial literacy, Kalee has two books being released in 2023 – a children's picture book called MoneyWise Mabel's Bursting Bank, and a non-fiction book called Make Money Your Thing! Which aims to build confidence and empower people in their financial lives.