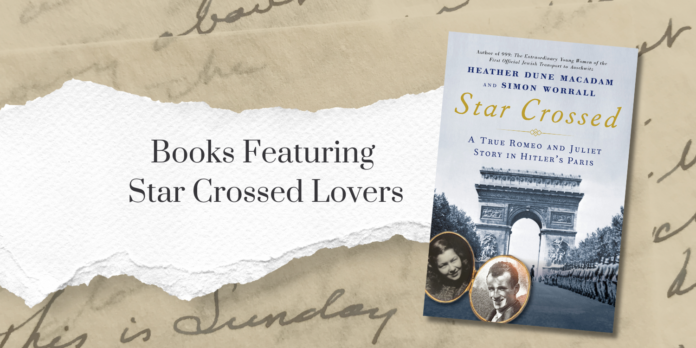 Star Crossed lovers are as exciting to root for as they are scary to hope for. Will they make it? Will there be a HEA or will I cry myself to sleep? We came up with a list of the top star-crossed love affairs that were so destined to happen they were practically written in the galaxy…

An epic true story of love and resistance during WWII, Star Crossed is set in 1940 Nazi-occupied Paris. A beautiful young Jewish art student meets a dashing Catholic poet, and they fall madly in love. However, as war rages all around them the young lovers are set on a divergent and tragically inevitable path.
In 1909 Montana, tensions mount between immigrant homesteaders and cattlemen determined to keep the range free in Calder Grit. The epic tale of the settling of the American West comes to vivid life in this inspiring saga of love, hope and endurance.
Romeo and Juliet by Shakespeare
I mean…obviously. We had to put this in here to make this list complete! Fated to never be together, this couple led the way for years to come. As tragic as it is hopeful, Romeo and Juliet are synonymous with never-ending love that was over too soon.
---
And if you prefer your love stories more light-hearted, below are a few romcoms that feature romance so beautiful it couldn't be stopped!
Full of humor, honesty, and chemistry, The First Date Prophecy delves into the idea of what happens when a couple learns they're destined to be the best love story ever….or the absolute worst…all on a first date. No relationship is perfect but what if you knew something life-altering was right around the corner, would you go along for the ride or run for dear life?
Red, White, and Royal Blue by Casey McQuiston
The President's son meets the Prince of England, and they absolutely hate each other…or do they? Soon they learn the fiery emotions of hate and love aren't so easy to decipher after all and maybe if you can't beat your enemy, you should join them…
Reprinted with permission from Kensington Books.