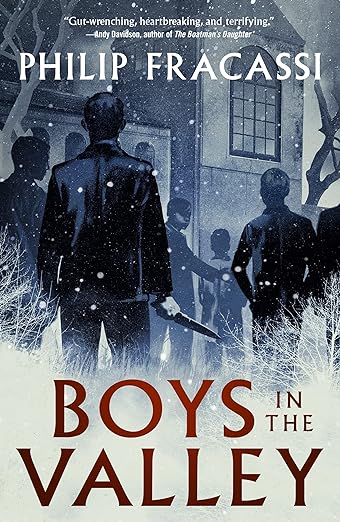 Boys In the Valley By Philip Fracassi
An invitation of horror — The Exorcist meets Lord of the Flies, by way of Midnight Mass, in Boys in the Valley, a brilliant coming-of-age tale from award-winning author Philip Fracassi.
St. Vincent's Orphanage for Boys.
Early twentieth century, in a remote valley in Pennsylvania.
Here, under the watchful eyes of several priests, thirty boys work, learn, and worship. Peter Barlow, orphaned as a child by a gruesome murder, has made a new life here. As he approaches adulthood, he has friends, a future…a family.
Then, late one stormy night, a group of men arrive at their door, one of whom is badly wounded, occult symbols carved into his flesh. His death releases an ancient evil that spreads like sickness, infecting St. Vincent's and the children within. Soon, boys begin acting differently, forming groups. Taking sides.
Others turn up dead.
Now Peter and those dear to him must choose sides of their own, each of them knowing their lives — and perhaps their eternal souls — are at risk.
https://www.amazon.com/Boys-Valley-Philip-Fracassi-ebook/dp/B0B9KX783S/ref=sr_1
Praise for Boys in the Valley

"Old-school horror." ― Stephen King



"The prose is precise, the terror's exquisite, and Fracassi's got his hand on the chisel going into your chest." ―Stephen Graham Jones, New York Times bestselling author of My Heart Is a Chainsaw

"A sublimely chilling story….Fracassi almost cheerfully paints this gloomy tale with painfully beautiful and detailed prose that is not afraid to shy away from gore and terror." ―Library Journal, STARRED review

"Gut-wrenching, heartbreaking, and terrifying." ―Andy Davidson, author of The Hollow Kind



"As poignant as it is chilling, with a fast-paced, unflinching ending, it's the richly drawn characters that make Boys in the Valley a standout." ―Alma Katsu, author of The Fervor and The Hunger
"A riveting, and horrifying, tale of survival set against a punishing and vivid backdrop. Think William Peter Blatty and William Golding blended together…but still the insights and angles are all Philip Fracassi." ―Victor LaValle, author of The Ballad of Black Tom

"Harrowing and claustrophobic, Boys in the Valley is an outstanding horror novel, filled with dread. You can feel the evil in this story, soaked into every page. One hell of a read from Philip Fracassi!" ―Christopher Golden, New York Times bestselling author of Road of Bones and All Hallows

"Boys in the Valley is cruel, creepy, and keeps the pedal to the metal. An unrelenting and highly entertaining show of horrors." ―Thomas Olde Heuvelt, author of Hex and Echo

"Perfectly paced, elevated horror. Fracassi is required reading for the genre and beyond. A bellwether of what's to come." ―Jonathan Edward Durham, author of Winterset Hollow

"This is not only a smart and deftly-written tale instilled with the kind of creeping, claustrophobic horror that I enjoy―Fracassi's got real love for his characters: you truly care about his motley band of boys, and their fates." ―Nick Cutter, bestselling author of The Troop
Gibson's Bookstore (Concord, NH) – Monday, 8/28 @ 4:30-6:30pm
Barnes & Noble (Hingham, MA) – Tuesday, 8/29 @ 7pm – w/ Paul Tremblay
Copper Dog Books (Beverly, MA) – Thursday, 8/31 @ 7pm – w/ Christopher Golden
Little Ghosts Bookstore (Toronto, Canada) – Friday, 9/1 @ 5pm – w/ Nick Cutter, Andrew F. Sullivan, and Ian Rogers
UK DATES
Forbidden Planet HQ (London, England) – September 13 – w/ Catriona Ward, Tori Bovalino and V. Castro
FantasyCon (Birmingham, England) – Sept 15-17
Waterstones (Bristol, England) – September 23 @ 7pm – w/ Tim Lebbon & Stark Holborn [RSVP ONLY]
ABOUT THE AUTHOR:
Fracassi grew up outside Detroit, MI, but moved away from home as a teenager to live in Chicago, where he managed a rock band. By the time he was of drinking age, he'd decided his future was in the movies, and moved to Los Angeles where he still resides. While holding every job from property master to locations manager, Fracassi continued to hammer out screenplays, award winning short story collections and novels.
The result is a blockbuster lineup of chills and thrills: in addition to Child Alone with Strangers, Fracassi's Gothic comes from Cemetery Dance in February and Boys in the Valley, the first of a two-book deal from Tor Nightfire and Orbit UK, arrives in July 2023.
Fracassi's distinct mix of adrenaline-pumping horror blends pulpy, traditional themes with a distinctly upmarket voice.  Among other accolades, New York Times reviewer Terrence Rafferty said Fracassi "builds his horrific tales slowly and carefully…his powers of description are formidable; and he's especially skillful at creating, and sustaining, suspense."