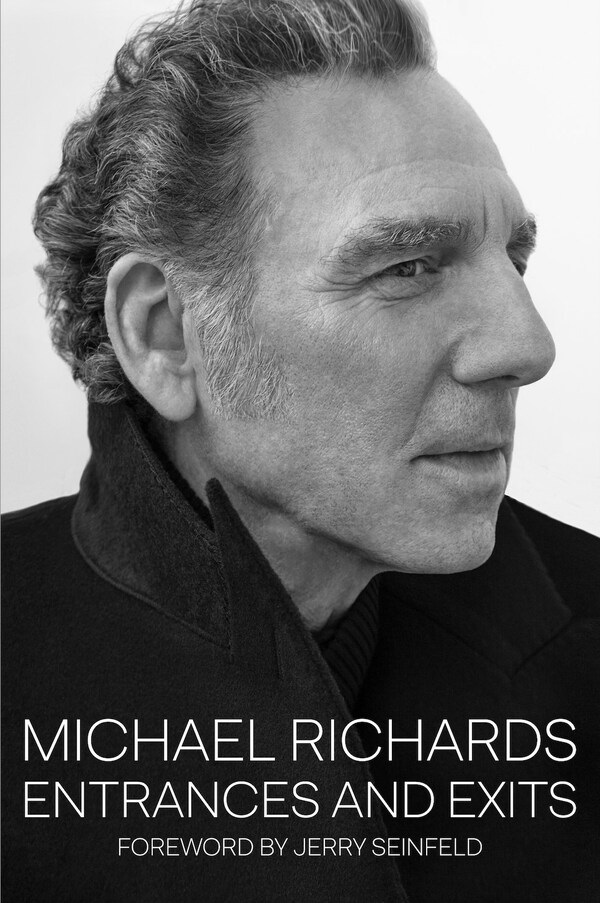 Three-time Emmy Award-winning actor Michael Richards, beloved for starring as Cosmo Kramer on the groundbreaking television series Seinfeld and considered one of the great physical comedians of our time, is set for a June 4, 2024, publication of ENTRANCES AND EXITS, an irresistibly candid, insightful, humorous, and complex memoir about his life and storied career with Jerry Seinfeld, Larry David, Jason Alexander, Julia Louis-Dreyfus, and other iconic figures in show business.
Jerry Seinfeld provides a foreword to this unflinching memoir whose title alludes to Shakespeare's famous lines in the play As You Like It: "All the world's a stage, And all the men and women merely players; They have their exits and their entrances…"
Of course, few have done it with the hilarious panache of Richards, who opens ENTRANCES AND EXITS with a backstage moment between him and Jerry on the set of Seinfeld, in the show's early days, that reveals a special dynamic between the two performers just beginning to take shape and that would — over nine seasons culminating with the series finale watched by 76.3 million people — rewrite TV history.
Seinfeld fans will savor Michael's fascinating behind-the-scenes look at the evolution of Cosmo Kramer from the pilot episode to his lasting impression on popular culture. He shares his take on Kramer's unique style, quirks, and trademark slides through Jerry's apartment door; along with insights into the process of creating comedy with cast members, guest stars, the show's writers and directors.
Richards also returns to the night of his shameful outburst on stage in 2006 that shocked his fans and led him to exit from the public eye. Opening up about this for the first time, he describes the way the incident drove him deeper into a lifelong spiritual quest, one that would help him move forward from apology and accountability to a greater appreciation for our shared humanity, a quest that continues to this day almost eighteen years later.
Michael writes in the book's introduction:
"My book is a hymn to the irrational, the senseless spirit that breaks the whole into pieces, a reflection on the seemingly absurd difficulties that intrude upon us all. It's like Harpo Marx turning us about, shaking up my plans, throwing me for a loop. Upset and turmoil is with us all the time. It's at the basis of comedy. It's the pratfall we all take. It's the unavoidable mistake we didn't expect. It's everywhere I go. It's in the way that I am, both light and dark, good and not-so-good. It's my life."
Proving himself a deft and fearless storyteller in ENTRANCES AND EXITS, Richards opens up about being raised by a schizophrenic grandmother–something he's never spoken of— the search for his father, and the way discovering theater at a young age unlocked a gift for performing that shaped the rest of his life. He discusses his time in the army amid the social unrest and cultural awakening of the Sixties and early Seventies, and his coming up in a red-hot comedy club scene alongside Robin Williams, Sam Kinison, and Jay Leno. Richards also reveals his passion for alchemical philosophy, C. G. Jung and the psychology of dreams, and how it helped him "to get real, more natural, more heartfelt," which he certainly achieves in ENTRANCES AND EXITS. 
"The first time I entered Jerry's apartment as Kramer, I asked, 'Got any meat?' In March 2021, I sat down at my desk looking over four decades of journals and asked myself, 'Got a book in you?' Well, just how meaty will it be? Probably a lot meatier than people expect. So… giddy up!"
"I am thrilled to present to the world ENTRANCES AND EXITS, the long-awaited memoir by Michael Richards, whose side-splitting antics as Cosmo Kramer on Seinfeld have entertained generations of viewers and left an indelible mark on the cultural landscape," says Anthony Ziccardi, Publisher of Permuted Press. "This book captures all the wit, irreverence and outrageousness of the beloved Kramer character, while also parting the curtain of Michael's private life to reveal the background and experiences that helped shape his destiny and eventually catapult him to the top of his profession and "must-see-TV" immortality.
ENTRANCES AND EXITS provides the gifted comedian and actor with another opportunity to do what he does best, burst through a door like no one else, this time not as Cosmo Kramer but as himself, Michael Richards, and it's his best entrance yet!