Today we spotlight New York Times Bestselling Author, Christine Feehan. Here's a little about this compelling author in her own words. I've been a writer all of my life — it is who I am. I write for myself and always have. The ability to create pictures and emotions with words is such a miracle to me. I read everything; I mean everything! All kinds of books, even encyclopedias. I am fascinated by the written word and I love storytellers. It is a great privilege to be counted one myself.
I write every day and have done so since I was old enough to pick up a pen. (I spent a lot of time getting in trouble at school for writing instead of doing the things I was supposed to do.) Once I create my characters, I try very hard to have them react to situations as they really would. Sometimes I have preconceived ideas of what I would like them to do, but they don't mind me, because it would be out of character for them. They take on a life of their own. Sometimes when I throw difficult situations at them in the hopes I'll get a certain reaction and they don't do what I want, I complain bitterly to my husband and he laughs at me. Still, it is important to me to have them be real, not perfect people, so they make mistakes we lesser mortals might make.
Christine's Bio
#1 New York Times bestselling author Christine Feehan has over 40 novels published, including four series. Each of her four series has hit #1 on the NY Times. Her debut novel Dark Prince received 3 of the 9 Paranormal Excellence Awards in Romantic Literature for 1999. Since then she has been published by Leisure Books, Pocket Books, and currently is writing for Berkley/Jove. She also has earned 7 more PEARL awards.
She is pleased to have made numerous bestseller lists including the New York Times, Publishers Weekly, USA Today, Bookscan, B. Daltons, Amazon, Barnes and Nobles, Waldenbooks, Ingrams, Borders, Rhapsody Book Club, Washington Post, and Walmart. She has received numerous honors throughout her career including being a nominee for the RWA's RITA. She has received a Career Achievement Award from Romantic Times and the Borders 2008 Lifetime Achievement Award.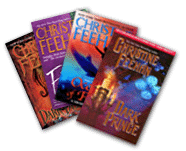 She has been published in multiple languages and in many formats, including large print, palm pilot, e-book, and hardcover. In October of 2007 her first manga comic, Dark Hunger was released in stores. This was the first ever manga comic released by Berkley Publishing and it made #11 on Publisher's Weekly Bestseller's List. Her ground-breaking book trailer commercials have been shown on TV and in the movie theaters. She has been featured on local TV, appeared on the The Montel Williams Show, and her book Dark Legend was featured on the cover of Romantic Times Magazine.
Christine Feehan has also appeared at numerous writers' conventions and book signings including: Romantic Times Convention, Get Caught Reading at Sea Cruise, Celebrate Romance Conference, Emerald City Conference, and numerous Romance Writers of America Conferences.
Take an inside look at what happened at the 2011 FAN Convention here.
Christine has several book trailers that are a feast for the eye!  Check out her latest, "Lair of the Lion."