Mood Swings By Rebecca York
It's not what you think!  I'm in my homebody phase now, hunkered down to do the final crucial editing on a manuscript that's due in three weeks.  After that, it's on to LA for RT.
For me, writing means rewriting.  Long ago I wrote slowly and then edited a lot.  I figured out that I could write fast and then edit a lot.  Which means the editing process is important to my books.
I've arranged my home to be a comfortable place where I can work.  Since I  hate sitting at a desk, I work exclusively on a laptop and move around the house.  Right now I'm in the sun room surrounded by plants, where I can look out on rolling green open space.  Last night in the rain, a wet raccoon came to my front porch to eat the food I put out for stray cats.  Rocky had very messy eating habits.  Apparently he's the critter who must tip over the bowl of food and eat it off the porch boards.  Oh well.
I'm hunkered down here for three weeks–working hard. But then the other half of my life kicks in.  I'm married to Mr. Travel, which is lucky for me.  All I have to say is, "I need to go to Peru to research a book, and he's on the phone to travel agents."
But I've set a significant number of my books close to home.  The hero of my first novel, INVASION OF THE BLUE LIGHTS  (kid's science fiction), lives in my house and discovers space aliens in the woods across the street and down the hill from our back door.  As an aside, I'm excited to say that the book has been optioned for a major motion picture by Peter Fuhrman of Stairway Media.
Many of my Harlequin Intrigues are set right around here.  I know the area.  I've had thugs try to kill my h/h at the local mall, in the stone quarries nearby, in the gorgeous park at Brighton Dam.  I staged that one at azalea time so that when the thugs descended in a helicopter, they blew a storm of colorful petals into the air.
For me, setting becomes another character in my books.  I grew up in DC, which is always good for spies and power grabs.
But if I don't know a place, I try to travel there to soak up the authentic atmosphere.  DAY OF THE DRAGON has significant scenes at an archaeological dig in Italy, where I've been several times.  Then it moves to Peru.  I hung loose on that one, picking my exact location after I'd toured around the country.  Of course the temptation is to use the breathtaking backdrop of Machu Picchu.  But a lot of tourists would have been collateral damage if I'd sent gunmen into the ruins.  I finally settled on Colca Canyon, which is a lot farther off the beaten path and a much better location for a gun battle–and for the private viewing of an ancient tomb my hero discovers.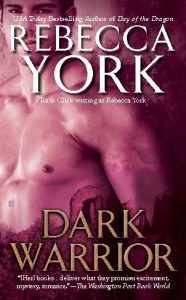 For DARK WARRIOR, coming out in September, I wanted the heroine to be the descendant of an ancient order of priestesses, rivals to the Delphic Oracles.  So where would these ladies hang out in modern times?  How about running a spa in Sedona, Arizona, one of the psychic capitals of the U.S.
I'd heard about it, but I'd never been there.  So Mr. Travel got busy and arranged a trip where we could hike out into the dusty red rock country looking for the vortexes–locations of natural psychic power.  We hired a guide who was part native American, part Texan and part Elvis impersonator.  (I'm not kidding!)  And we ended our tour with my having my aura photographed.  It's quite unusual.  More colorful than most.  Who knew?
I told my Berkley editor I'd love the cover of the book to be red.  And I'd like to see the red rocks behind the hero.  Somehow they ended up on his ribs.  But maybe I just don't understand cover design.
My books have dealt with ancient mysteries lately.  Which is why we're going back to Pompeii this spring.  Then on to Herculaneum and Paestum.
Or maybe inspiration will strike while we're drinking lattes in Brussels–the start of our upcoming European tour.
I'm already getting prepared.  Apparently, you can only take one bag, including your purse, on a lot of intra-European flights. So I've bought one of those many-pocketed travel vests that's supposed to substitute for a carry-on.  I'm trying it out when we fly to RT in April.  Fingers crossed that it works.
And now, back to editing.
About Rebecca York
Ever since she can remember, Rebecca York has loved making up stories full of adventure, romance, and suspense. As a child she corralled her friends into adventure games or acted out romantic suspense stories with a cast of dolls. But she never assumed she could be an author because she couldn't spell. Her life changed dramatically with the invention of the word processor and spelling checker–and the help of her husband, Norman Glick, who spots spelling errors from fifty paces away.
Rebecca's Career Achievements. A New York Times, USA Today, and Publishers Weekly best-selling and award-winning author, Rebecca has written over 125 books and novellas. In 2011 she became the dozenth author to receive the Romance Writers of America Centennial Award for having written 100 romantic novels.  Her Killing Moon was a launch title for Berkley's Sensation imprint in June 2003. Five more books in the series have followed.
Rebecca has authored or co-authored over 65 romantic thrillers, many for Harlequin Intrigue's very popular 43 Light Street series, set in Baltimore, and many with paranormal elements.
Her many awards include two Rita finalist books. She has two Career Achievement awards from Romantic Times: for Series Romantic Suspense and for Series Romantic Mystery. And her Peregrine Connection series won a Lifetime Achievement Award for Romantic Suspense Series.
Nowhere Man was the Romantic Times Best Intrigue of 1998, and the book has been selected as one of their Reviewers' "all-time favorite 400 romances." In addition, she received the 1998 Affaire de Coeur Critics Choice Award for Best Contemporary Novel, also for Nowhere Man. Rebecca's book, Amanda's Child, won the 2001 New Jersey Romance Writers Golden Leaf Award for Long Contemporary and was nominated for Best Intrigue of 2000 by Romantic Times.  The Secret Night and More Than a Man both won RT's award for Best Harlequin Intrigue of the Year for 2006 and 2009, respectively.
Rebecca enjoys cooking, walking, reading, gardening, rock collecting, travel, and Mozart operas.
She collects rocks and has been known to lug stones back from Hawaii, Ireland, and Alaska. Rebecca and her husband Norman travel frequently to research settings for novels and taste new dishes for cookbooks. Trips in recent years included Russia, Australia, New Zealand, Norway, London, New Orleans, and Maui. Her many unique experiences are apt to end up in her books–like the time she encountered a coral snake in the Guatemalan jungle or took a flight in a hot air balloon. Photos below show some of Rebecca's adventures–like training for a secret spy mission in a glider.
She's also consulting an expert on Costa Rican rain forest travel and zipping through the rain forest herself.
More about Rebecca. She and her husband live in Columbia, Maryland. They have two grown children, Elissa (a librarian) and Ethan (a Foreign Service Officer), and two grandsons, Jesse and Leo. Rebecca holds a B. A. in American Thought and Civilization from The George Washington University and an M. A. in American Studies from The University of Maryland. She heads the Columbia Writers Workshop. She is profiled in Who's Who in America, Contemporary Authors, and Who's Who of American Women.

Comment on this blog for a chance to win a signed copy of Dragon Moon from Rebecca!