Welcome back to Chesapeake Shores, a world of compelling characters and heartfelt emotion.
DRIFTWOOD COTTAGE

April 2011
New York Times bestselling author Sherryl Woods again brings her signature heartwarming style to the community of Chesapeake Shores.
Single mom Heather Donovan's dreams of home and family are tantalizingly within reach when she settles in Chesapeake Shores. The welcoming arms of the boisterous, loving O'Brien clan embrace her and her son. But accepting their support seems to further alienate her son's father, Connor O'Brien. His parents' divorce and his career as a high-powered divorce attorney have left him jaded about marriage.
Then everything changes. Will the possibility of a future without Heather make Connor look at love and his career differently? Heather's just about given up on her old dreams — of love, of family and especially of Driftwood Cottage, the home she secretly wishes were hers. It's going to take a lot of persuasion — and some help from the O'Brien family — to make Heather believe that some dreams are worth fighting for.
May 2011
Welcome to Chesapeake Shores, where New York Times bestselling author Sherryl Woods weaves a world with compelling characters and heartfelt emotion.
Jess O'Brien has overcome a lot—the challenges of attention deficit disorder, the near bankruptcy of her beloved Inn at Eagle Point and her self-perception as a screw-up in a family of overachievers. Now she's ready to share the future with a man. Her friends persuade her to join a dating service—but she gets no takers! Which is fine with her childhood friend, psychologist Will Lincoln, who's already chosen the perfect man for Jess: himself.
Will has loved Jess practically forever. He knows her faults and strengths. But for all Will's sincerity and charm, Jess fears he views her as some psychological case study. With her family and the town of Chesapeake Shores behind him, Will finally makes his case. But is it enough to convince Jess to take the risk of a lifetime?

BEACH LANE

June 2011
New York Times bestselling author Sherryl Woods returns to Chesapeake Shores with a heartfelt story about the healing power of love.
In the close-knit community of Chesapeake Shores, Maryland, Susie O'Brien and Mack Franklin's "not dating" claim befuddles everyone, especially since the two spend every spare minute together. Susie's thrilled when their friendship finally heats up. Then, just when happily-ever-after seems within reach, Mack loses the job he loves and Susie faces a devastating diagnosis.
But O'Briens always unite in a crisis. Even her cousin Jess, Susie's rival for most of their lives, becomes her staunchest supporter—especially when Mack's former lover comes to town. The stakes are higher than ever before, but Susie's definitely up to the challenge…as long as Mack's right there by her side.
About the Author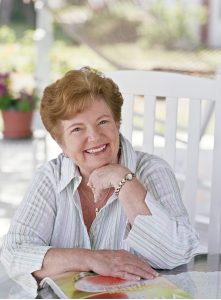 With two other careers to her credit before becoming a novelist and four states in which she's lived for extended periods of time, Sherryl Woods has collected friends and memories, along with way too much unnecessary junk.
"The friends are the only things I've brought with me through the years that really matter," she says. "I could probably live without one more chintz teacup, another tin-litho sandpail or another snowglobe, but I need those friends."
Author of more than 100 romance and mystery novels, Sherryl Woods grew up in Virginia. Over the years she had lived in Ohio and Florida, as well as California. Currently she divides her time between Key Biscayne, Florida and Colonial Beach, Virginia, the small, river-front town where she spent her childhood summers.
A graduate of Ohio State University School of Journalism, Sherryl spent more than ten years as a journalist, most of them as a television critic for newspapers in Ohio and Florida. For several years she also coordinated a motivational program for the more than 8,000 employees at the University of Miami-Jackson Memorial Medical Center.
Her first book, RESTORING LOVE
, was published in 1982 by Dell Candlelight Ecstasy under the pseudonym of Suzanne Sherrill. Her second book, SAND CASTLES
, under the pseudonym of Alexandra Kirk, was published later that same year by Bantam. She began using her own name when she moved to the Second Chance at Love line at Berkley Publishing. In 1986, she began writing full-time and also began her long career at Silhouette Books with the Desire title NOT AT EIGHT, DARLING
, set in the world of television which she covered for so many years.
In addition to her more than 75 romances for Silhouette Desire and Special Edition, she has written thirteen mysteries — nine in the Amanda Roberts series and four in the Molly DeWitt series.
When she's not writing or reading, Sherryl loves to garden, though she's not at her best on a riding lawn mower. She also loves tennis, theater, and ballet, even though her top spin has long since vanished, she's never set foot on a stage, and she's way too uncoordinated to dance. She also loves baseball and claims anyone who's ever seen Kevin Costner in "Bull Durham" can understand why.
Visit www.SherrylWoods.com for the latest news about Sherryl and her other novels. While there, immerse yourself in Sherryl's world of friendships, family and heartfelt emotions by interacting with her on her delightful blog,www.JustBetweenFriends.com
Life Can Be a Picnic
With Sherryl Woods' Moonlight Cove Contest
New York Times bestselling author Sherryl Woods follows up DRIFTWOOD COTTAGE
, the first of the new eagerly awaited Chesapeake Shores trilogy, with May's MOONLIGHT COVE
. The heroine, Jess O'Brien, turns to a dating service to boost the romance of her life. Long-time friend Will Lincoln would like to be the one Jess chooses. One lucky reader can treat a loved one to dinner alfresco with this month's picnic-for-two wicker basket. Just add your choice of picnic delicacies! To go in the basket—a book from Sherryl's backlist. Then be sure to pre-order the final installment, BEACH LANE
, hitting bookshelves in June. Two additional winners will each receive a book from Sherryl's backlist.
Contest on Fresh Fiction