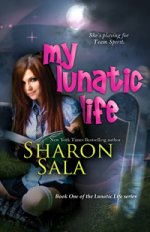 Being a teenager is complicated enough for the average human being. The continued (and seemingly endless) demands of school, mounting social pressures, dating—it tends to be a lot for a person to handle. If only Tara Luna's life were so simple…
…In addition to these ordinary adolescent concerns, Tara has special problems, unless of course you consider seeing dead people and hearing the thoughts of others a great advantage in life. And you might assume that such powers would be beneficial, but before you jump to conclusions, let us take a practical look at Tara's circumstance. Going out on a date with a fellow has just become more complicated, since, as a psychic, Tara can read his thoughts. Believe me when I say that it does not serve her as well as you might imagine. Seeing ghosts would not be so terrible, but conversations with what those (ordinary people) around you perceive as nothingness tend to convince others that a mental problem is at work. Of course, there are also ghosts that tend to pester her for favors, but at least Tara has the help and friendship of Henry and Millicent, two spirits that follow her wherever she and her Uncle Pat may go. And they move everywhere, owing to her uncle's "gypsy heart" and his inability to stay settled in one place for any great duration of time. She follows because he is the only family Tara has.
Now that Tara is in a new school, fresh challenges rise to the surface of her life, like the popular and prissy young ladies (in all seriousness, one of them is named Prissy) who are determined to make her life miserable. Fortunately, she has the support of her new boyfriend, Flynn, who is as much of an outcast as she is. But her biggest problem is the dark spirit making demands from Tara and threatening harm and hell if she refuses to assist. The ghost wants her mysterious murder solved and knows that Tara can help. And when a student at her school disappears, Tara realizes that she may be the only one who can solve the case before time runs out. What will it take? Welcome to Tara's lunatic life.
My Lunatic Life is a new novel from highly-acclaimed author Sharon Sala. It serves as the basis for a new series from Sala that will detail the course of Tara's adolescence as she struggles to maintain sanity in the midst of both ordinary and extraordinary pressures. Sala specializes in romance and suspense, but this particular piece is classified as paranormal mystery for young adult audiences. Tara is an endearing and somehow familiar character with enough dimension to make this a very worthwhile read for fans of young adult fiction. The story engages with its elements of verisimilitude and the paranormal, which form a good blend in this context.
Look for My Lunatic Life by Sharon Sala, now in bookstores everywhere. If you would like more information about this title and new series, Sala's previous works, or the author herself, then visit the following web-address: http://www.sharonsalabooks.com/.