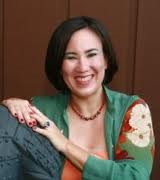 L. McMaken
10-27-11
Cincinnati, OH
Jade Lee is known for her hot, sensual novels. Yet when she began creating her website, little did she know another Jade Lee existed. The "other" Jade isn't so much sensual as she is, well, you'll just have to watch the interview to learn more.
Her newest series, Bridal Favors, is set in Regency England where several women own a dress shop, and how they find love, laughter and happiness for others, and themselves. Filled with passion, intrigue and humor, the first book in the series, Wedded Scandal will be released in March of 2012.
Her website is as fun as she is, and readers will be surprised by the fun things she shares about herself. Join the conversation as Jade describes her relationship to Chinese royalty and how she didn't embrace her heritage until she was an adult.