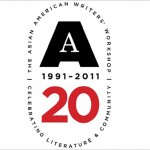 L. McMaken
10-28-11
Cincinnati, OH
With a monetary boost via Kickstarter, The Asian American Writers Workshop now in its 20th year will be holding their 3rd Annual Page Turner Literary Festival.  The one day festival will be held at Brooklyn New York's Powerhouse Arena, this Saturday, October 29th.
The festival will be packed with authors including five National Book Award finalists and seven Guggenheim Fellows. Staged readings, open mic events, and celebrity chef Eddie Huang who will be DJing the Afterword Party at Verso Press. Featured authors include: Junot Diaz, Amitav Ghosh, Jessica Hagedorn, Kimiko Hahn, Hari Kunzru, Jayne Anne Phillips, Sukety Mehta, Min Jin Lee, Mark Nowak, Amitave Kumar, and editors John Freeman and Joel Whitney.
Admission for the day is $20. More details can be found on their website.