L. McMaken
11-2-11
Cincinnati, OH
Author Donna MacMeans has to be one of the easiest and funniest interviews a journalist could have. She is gregarious, open, and will answer almost any question. Known for her many "hats", Donna writes historical romance set in the Victorian era, as well as a few other genres. They aren't your typical era romances however. Her characters are spiced with fun, a bit of stubbornness and lots of energy. Welcome Donna!
First, tell us a bit about yourself. Where you're from? Past jobs, awards, the usual bio stuff.
While initially from Towson, Maryland, I've lived most of my life in Ohio.  While I currently reside in Columbus with my husband and pets, I've also lived in Cincinnati and Cleveland.  I think most people are surprised to discover that I'm a Certified Public Accountant as well as a writer.  I still maintain a tax practice though I much prefer creating a story than completing a tax return.
Like many, I decided to try my hand at writing when I was disappointed with a particular plotline of a book.  I thought I could do better – Hah!  That's when I learned how truly difficult it is to craft a novel.  While my very first novel, a contemporary romantic suspense, did final in the Golden Heart contest sponsored by Romance Writers of America, it was very much a learning experience and currently resides under the bed gathering dust bunnies.  My third manuscript, THE EDUCATION OF MRS. BRIMLEY, was the first one sold.  After winning the 2006 Golden Heart contest with that manuscript, I ultimately signed a multi-book contract with Berkley, a division of Penguin Publishing.  That story has now been published in The Netherlands, Norway and Japan.  I've won several awards including the 2008 Romantic Times Reviewers Choice award for Historical Love and Laughter, and the 2009 Aspen Gold for best paranormal, and been a finalist in many more.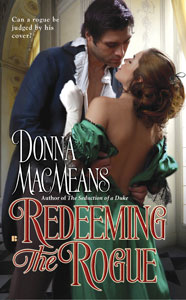 My next release will start a new series featuring Victorian personal ads – man seeking woman, woman seeking man.  They had those then, just as we do today.  But they were much more eloquently stated.  It's a fun series full of surprises.
What do you write?
Let's see – I've published three straight historical romances set in the Victorian time period, and one historical paranormal romance set as well in the 1870s.  I've also published two short stories in different anthologies.  One is connected to my straight historicals, the other is a contemporary with magic.  My second manuscript, a contemporary romantic suspense featuring a woman CPA who has had a heart transplant, was released under the pen name, Donna Richards.  It's my only published contemporary novel.
Who has been the most difficult character for you to write?
For me the most difficult character to write is one that has not been fully fleshed out.  Once the motivations and histories are worked out, I don't have difficulties with the characters.  Now plots – that's another story (grin).
What characters are lying on your "office floor"? Why didn't they come to life on the page and do you think they ever will? Or why not?
By "lying on the office floor" do you mean discarded manuscripts?  Or stories that haven't been written?  The only complete manuscript of mine that hasn't been published is my first and I think the difficulty with that one is more the beginning writer's voice, learning the balance of narrative to dialogue, learning how to work setting and backstory into the flow.  The characters of that story were really pretty good, hence the honor of being considered for the Golden Heart.  As for characters that are stalking about my office waiting for their stories to be written or finished, there's a few.  I'm not a fast writer, a difficulty I'm working on.  I plan to write their stories – mostly sequels to published works – but I need to finish up my current series first.
How much time does it usually take you to write a book?
Thus far it takes me a full year to write a book from conception to completion.  My books tend to average about 100,000 words, or 400 manuscript pages.  Have you heard the expression "write what you know?"  Apparently I don't know anything (grin).  I have to spend a great deal of time researching elements of history, clothing details, setting details, various occupations, etc.  Currently I'm research whisky distillation in the 1890s.  It's the first time my husband has volunteered to assist in the research (grin).
Any funny "researching your book stories" to share with readers?
Most of my funny researching stories result from my early years writing contemporary suspense.  In the name of research, I've driven an ambulance, driven a fire truck, shot a gun on a firing range,  "sliced the pie" while searching for a bad guy who was hiding in an office, worn fireman turnout gear then crawled through a non-burning house, and done ride alongs with policemen.  I'm afraid most of my research writing historicals is confined to long hours in the library.
What do you find is the hardest part of writing?
Getting family and friends to understand that the smallest interruption – even a kind, thoughtful question – yanks me out of my story "zone."  It's not always easy to get back to that point again – especially if I'm slugging through the middle of a book.  Sometime friends don't understand that even though one can read my books in a couple of hours, creating and writing the story is really hard work and requires considerable time.  Even though I work out of my home, I'm not necessarily available for lunch, drop-by visits, or long casual conversation.   The other hard part is not being physically able to write all the stories I wish to – yet.  Give me time, though, and I'll crank them out.
If you could be one of your characters for a day which character would it be? Why?
That's a tough one.  All my characters have a happy ending, so that's a good thing… I think I'd like to be Lusinda Haverstock from THE TROUBLE WITH MOONLIGHT.  Lusinda turns invisible in moonlight.  She can't help it, it just happens.  Wouldn't it be cool to be able to become invisible?  Imagine the places you could go, the conversations you could listen to?  Of course, you'd have to be naked and out in the moonlight…and preferably be situated in a warm climate (grin).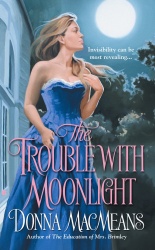 Who is your favorite hero that you've written? Why?
I love all my heroes for various reasons.  Can't tell you the number of letters I've received asking where my readers can find a man like Rafferty from REDEEMING THE ROGUE.  However, I'm going to go back to Nicholas from THE EDUCATION OF MRS. BRIMLEY for your answer.  Nicholas was an incredibly seductive artist who had a way with brushes.  I think he was responsible for my selling that first novel and for that I'll always be grateful.
Who is your favorite fiction hero written by someone else? Why?
I think that would be Jamie Fraser from Diana Gabaldon's OUTLANDER.  He was just so luscious with his Scottish burr.  I think that character was the one that got me addicted to romance novels.
What do you think makes a good hero?
I could write chapters on that one (grin).  For me, the hero has to be competent and skilled in some area.  He absolutely has to be intelligent and have an excellent sense of humor.  He has to respect the heroine and listen to what she has to say.  He may not agree with her, but he has to listen.  I'd like him to have goals beyond betterment for himself.  And he has to be sexy.  He has to know how to treat a woman right.

If you could have dinner with any writer living or dead, who would it be and why?
I love talking to writers.  They are such creative people.  As for specific writers –  the incomparable Jane Austen – PRIDE AND PREJUDICE is one of my all time favorite books.  Maybe James Michener because I was addicted to his books as a teenager.  What incredible research!  I'd love to know his secrets.  Ayn Rand would be another as her books made such an impression on me.
Name your five favorite authors. Yes, only five!
Susan Elizabeth Phillips, Diana Gabaldon, Amanda Quick (aka Jayne Anne Krentz), Julia Quinn, Nora Roberts…I could go on.
What authors are in your TBR pile?
I can't even begin to tell you as that pile is so high!  I have books of friends as well as books that I purchase to analyze (always the CPA).  I have books from the other members of Romance Bandits, my blog partners.  Unfortunately as I have to read so much nonfiction for research purposes, that TBR pile does not go down very quickly.
What authors do you always read?
Again, so much of my time is spent reading nonfiction I can't say there's any author that I always read.  I try to read in other genres beyond romance as well as keep up on trends.  Too many books, too little time.
Do you have a secret talent readers would be surprised by?
I can rip a phone book in half.  Yes, there's a trick to it.  I love to dance.  And as my lack of waistline clearly shows I like to make luscious desserts.
What is the one question you never get ask at interviews, but wish you did?
I don't know if this is really a question, but I would like to tell you my goal in writing romance.   I've been married for close to forty years.  In that span of time I know that the love shared by a husband and wife changes.  The initial rush of excitement of finding someone who pursues you for your favor, who is willing to sacrifice on your behalf gradually fades and is replaced by a deeper, more trusting sort of love.  I want women to remember and relive that initial excitement of the first meet, of falling hopelessly in love with someone else, of hoping that they can trust their hearts.  That's what I try to deliver with my books – that as well as a good chuckle.  Let's face it, we can all use a little humor in our lives.