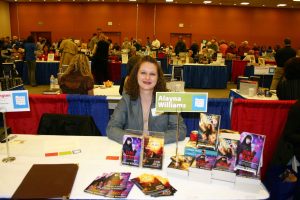 L. McMaken
11-3-11
Cincinnati, OH
I love it when I attend a writer's conference and find a great new author. That's just what happened when I met Laura Bickle aka Alayna Williams. She writes in several genres most recently, young adult. Personally, I was intrigued by the paranormal fantasy titles, and now have another book on that teetering TBR pile.  Let me introduce you to Laura.
1. First, tell us a bit about yourself. Where you're from? Past jobs, awards, the usual bio stuff.
I'm a bit of an odd duck. My professional and educational background is in information technology, criminal justice, and library science. I live in the Midwest, where my husband and I are owned by five semi-reformed feral cats. I work in a library, which is a dream job for a writer.
2. What do you write?
I write contemporary fantasy and urban fantasy, and I just sold my first YA paranormal thriller. Writing as Laura Bickle, I'm the author of EMBERS and SPARKS from Pocket Books, which are sometimes described as "Ghostbusters in Detroit with dragons and arson." Writing as Alayna Williams, I'm the author of DARK ORACLE and ROGUE ORACLE (also for Pocket), featuring a criminal profiler who uses Tarot cards to solve cases.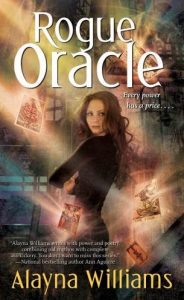 THE HALLOWED ONES is my YA thriller about an Amish girl who must confront not only a massive disaster unfolding in society at large, but also the darkness brewing in her own community – think "Witness" meets "28 Days Later." It will be out from Houghton Mifflin Harcourt's Graphia teen imprint in Fall 2012, with a sequel in Spring 2013.
3. Who has been the most difficult character for you to write?
I think my most difficult character was the Pythia in DARK ORACLE and ROGUE ORACLE. She's the leader of an ancient society of oracles, and in Dungeons and Dragons parlance, she's entirely neutral in alignment. She isn't good, she isn't evil, but she can be quite ruthless in her neutrality. She does what needs to be done, and for her, the ends always justify the means.
4. What characters are lying on your "office floor"? Why didn't they come to life on the page and do you think they ever will? Or why not?
When characters don't work out, I find that it's simply the wrong story for them. For me, a character has to mesh organically with the plot. If that doesn't happen, then the character doesn't shine, and she winds up on the cutting room floor. But I keep notes on her…she may be perfect for a story at some point in the future.
5. How much time does it usually take you to write a book?
Usually, it takes me a few months from start to finish. I credit National Novel Writing Month with instilling structure for me and helping me to see the big picture. Both DARK ORACLE and ROGUE ORACE were National Novel Writing Month winning books, and I use those techniques in all the stories I write.
6. Any funny "researching your book stories" to share with readers?
Research is one of the pleasures of being a writer, and I got to research spontaneous human combustion for SPARKS. I was really amazed at the number of theories about how this works…including the theory of the 'phosphenic fart.' In this idea, digestive gases gather and catch fire in one's digestive tract. Yeah, I know. Bizarre. But fun to see if I can get the heroine to mention that in the story. And if I can get my editor to laugh, that's an additional bonus.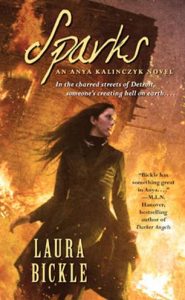 For THE HALLOWED ONES, I spent some time in Amish country. Researching the history and symbolism of hex signs was a special thrill – they're beautiful art with a great deal of meaning behind them to invite luck, prosperity, and protection.
7. What do you find is the hardest part of writing? The beginning is the most intimidating – the blank page is a scary place, full of doubts. Procrastination is my greatest enemy at that stage.
The easiest part for me is the last quarter of the book. Then, I can see how all the factors come into play and the plot threads begin to tie up. It's sort of like running downhill – exhilarating and exciting.
8. If you could be one of your characters for a day which character would it be? Why?
Sparky, Anya Kalinczyk's fire salamander in EMBERS and SPARKS, was a lot of fun to write. Sparky is a composite of all the pets I've had. He's snuggly, petulant, protective, and snarky. As a fire salamander, he can affect electrical fields and fire…he's been known to chew on cell phones, blow up microwaves, and set of sprinkler systems in the crime lab. He has a favorite toy that he cuddles with at night…a Glow-Worm. I had a Glow-Worm toy as a child. I was terribly afraid of the dark, and it really helped. I still give them as gifts for baby showers.
Yeah, I think I'd like to be Sparky. He doesn't speak, but he gets to unleash all of his destructive urges and he snacks on ghosts.
9. Who is your favorite heroine that you've written? Why?
Katie, the heroine of THE HALLOWED ONES, was an interesting person to wrap my head around. She's a young woman preparing to go out and experience the world outside her Amish community…when a cataclysmic, end-of-the–world type of event starts to unfold. She's trapped in her own community, but also has to face the evil beyond it and the growing darkness within it.
10. Who is your favorite fiction heroine written by someone else? Why?
I've always loved Aerin in Robin McKinley's THE HERO AND THE CROWN. Aerin was the first fantasy heroine I'd read who slew her own dragons, and I was hooked on the genre from then on.
11. What do you think makes a good hero or heroine?
I think a good hero or heroine can't have an easy time of it. The decision to become a hero can't be an easy one. A person gives up a great deal to go on the hero's journey, and you never get all of those things back when you return to the village. Some of those things sacrificed are gone for good.
12. If you could have dinner with any writer living or dead, who would it be and why?
Sergei Lukyanenko. His Watch books have such a unique perspective – his characters are often in danger of losing their humanity. And they have such nuanced and complicated relationships with power, both supernatural and political.
13. Name your five favorite authors. Yes, only five!
Guy Gavriel Kay, Robin McKinley, Sergei Lukyanenko, Phillippa Ballantine, and Alice Hoffman.
14. What authors are in your TBR pile?
My TBR pile is huge and out of control. At the top are Thomas Sniegoski and Meljean Brook.
15. What authors do you always read?
Patricia McKillip, Ann Aguirre, Jeri Smith-Ready, Elizabeth Bear, Peter S. Beagle, and M.L.N. Hanover.
16. Do you have a secret talent readers would be surprised by?
My husband and I are amateur astronomers. I also belly dance a bit…but not in public. Nobody needs to see that, trust me! 😉
I initially became interested in belly dancing because I wanted to help overcome my shyness. Since I spend so much time in my head, it helped me think of my body a bit more, get outside of myself. I still wouldn't dance in public, but it's a lot of fun to get together with a group of women to laugh and shimmy.
17. What is the one question you never get asked at interviews, but wish you did?
I wish people would ask about what I'm watching on television. I'm a huge fan of Fringe and the X-Files. I've also been immersed in Rome, the Walking Dead, Firefly, and Boardwalk Empire. There are some really amazing stories being told out there.
And I shall not gush on about how happy I am that Futurama got renewed. All glory to the Hypnotoad!
I'm always thrilled when folks pick up my books. I love to hear from readers, and I can be found in the following places:
Website:  http://www.salamanderstales.com/
Blog: http://salamanderstales.blogspot.com/
Facebook: http://www.facebook.com/laurabickle
Twitter: http://twitter.com/Laura_Bickle
Thanks so much for hosting me today!
Thanks for dropping by Laura.