What To Read To Put You In The Mood For The Holiday!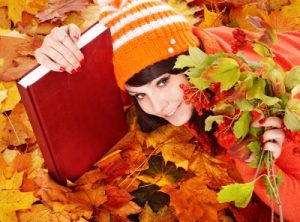 Books about Thanksgiving are often about children, family and traditions.  This Thanksgiving holiday you can gear up early in the week, or spend Black Friday home, snuggled in bed with a good book.  Don't care for sports? How about a fun read with the kids or perhaps a Thanksgiving book for you?
Kids Books
There are a multitude of children's books about Thanksgiving.  You can go to BN.com and search for "Thanksgiving children's books" and you will find a wide variety of books for all ages.  There are some new ones out there for those of you who already have bought Thanksgiving books in the past.  Here are a few new books to consider:
Fancy Nancy: Our Thanksgiving Banquet by Jane O'Connor
The First Thanksgiving by Sarah Treu
A Very Beary Thanksgiving (Children's Picture Book) by B. J. Boyde
Marley: A Thanksgiving to Remember by John Grogan
Thanksgiving Graces by Mark Moulton
And even an I SPY Thanksgiving book by Jean Marzollo!
Grown Up Thanksgiving Books
There are also books for grown ups! Did you know that Janet Evanovich wrote a Thanksgiving book in 2006?
You can find books about Thanksgiving holiday sampler menus like The Parchment Paper Cookbook: A Holiday Sampler Menu from the Parchment Paper Cookbook.
Or Thanksgiving: Recipes for a Holiday Meal by Lou Pappas.
Or how about something more crafty like Martha Stewart's Holiday Crafts: 225 Inspired Projects for Year-Round Celebrations?
Or try something truly inspiring such as Love Inspire's The Loner's Thanksgiving Wish by Roxanne Rustad
You can go to online reader communities to find out what Thanksgiving reading people are talking about. GoodReads, a popular online destination for readers, has a thread from a few years back that is still relevant today.
And finally, for the romantic of you, here is a list of romance themed Thanksgiving stories that you can find on Amazon.com.
The holiday week is hectic. While everyone is running around preparing for the feast, or recovering from it, curl up with a good book. Enjoy your holiday your way. Escape. Read together. Above all, have a Happy Thanksgiving!