Lisa Kleypas' new series is magical romance at its best!
Kleypas calls it "magical realism", but I call it simply "magical". No matter what you call it Rainshadow Road, the second installment in her Friday Harbor series, is sweet and heart warming.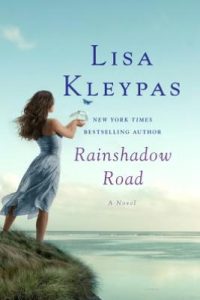 Kleypas is perhaps best known for her historical romances, but broke that mold in 2007 with her contemporary novel Sugar Daddy.  It was a bold move by the author to try a new genre after being so well established in historical romance.  Her contemporaries are also romance, with the same riveting characters, humor and story.  Now the author spreads her wings again and reaches into another genre, one with a slight paranormal twist.
Lucy has always been second to her sister Alice. It's one thing to feel second to your little sister with your parents, but when your long-time, live-in boyfriend decides he prefers her too, well, that's just too much.  As Lucy works to discover herself and recover from her disastrous relationship her friends encourage her to have a fling and enjoy life a little. That's where Sam comes in. He's a "good time" waiting to happen. A confirmed bachelor who is very up front about his commitment phobia.
When an accident puts Lucy in the care of Sam things start to heat up. But, Lucy knows Sam is not in it for the long haul and does all she can to keep her heart safe. Good luck with that, Lucy.
Lucy's turmoil manifests in a very interesting and unique magical ability, which you learn about in the first chapter of the book. Lucy loves creating art with stained glass. It calls to her soul. And when she becomes overly emotional, something magical happens with the glass.
Sam has a few surprises of him own.  Coming from a dysfunctional family of alcoholic parents, Sam doesn't see relationships as anything permanent. But, he's honest and he's a good guy.  Those two things may not save Lucy's heart no matter how hard each of them try.
This story is typical Kleypas insomuch as it is a feel-good, cry-hard, laugh-loud story that will touch your heart, make you smile and leave you yearning for the next book in the series.